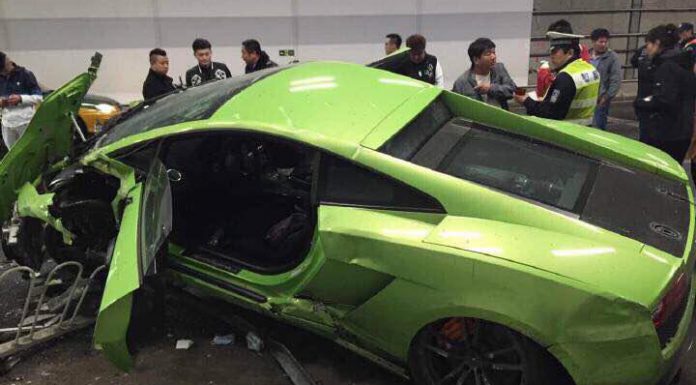 Two Chinese drivers have been sentenced to a cumulative nine months in price while also being fined over 16,000 Yuan ($2580 USD) after a crash involving a Ferrari and Lamborghini in April.
The crash saw a Verde Ithaca Lamborghini Gallardo LP570-4 Superleggera and Ferrari 458 Spider crash heavily in a Chinese tunnel. While both drivers managed to escape injury, a female passenger was injured but has since recovered. It is reported that the Italian supercars were spotted driving at speeds of up to 180 km/h.
Interestingly, local media reports that the two men, aged 20 and 21, were both unemployed and driving their parents cars.
Damage wise, both cars are believed to have been written off. Of the pair, the second-generation Gallardo Superleggera suffered the most damage with its front end absolutely destroyed in the crash. Additionally, the two front wheels of the Gallardo Superleggera were ripped from the car while the windscreen was smashed and the driver's side rear wheel also sustained serious damage alongside the left rear quarter panel.
As for the Ferrari 458 Spider, the passenger side door was been torn off in the impact with serious wheel and suspension damage also suffered at the rear end.