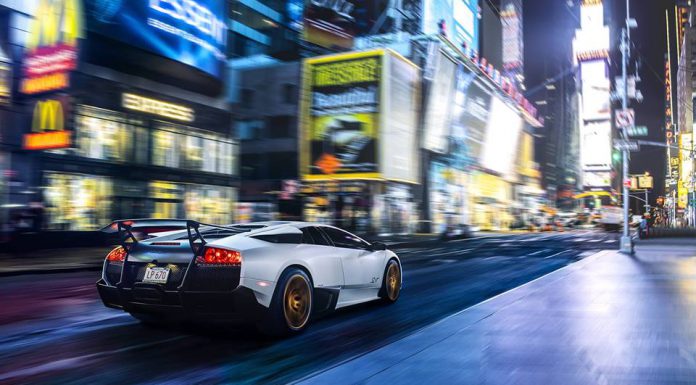 The 90-car strong entry list for the 2015 goldRush Rally has just been revealed and it is obvious that this year's event will be the biggest and most impressive yet.
For starters, the famous Bugatti Veyron Super Sport Pur Blanc will take part alongside another Veyron and a Veyron Grand Sport Vitesse as well as the hypercar's predecessor, the EB110 SS. Also competing will be a Pagani Huayra and two Porsche 918 Spyders as well as an ultra-rare Saleen S7 and one of just 500 Lexus LFA's ever produced.
No less than seven Lamborghini Aventadors have also signed up alongside a single Huracan, two Murcielago SVs, two standard Murcielago models and two Gallardos. On a Ferrari front, there will be four 458 Italias, one 458 Speciale, an FF, California and a 430 Scuderia. Other extremely notable cars competing include two Ford GTs, a range of Rolls-Royce models, Corvette ZR1, Jaguar F-Type, a brand new Mercedes-AMG GT S as well as numerous Nissan GT-Rs and Audi R8s.
[showhide]
"goldRush Rally – GR7™ 2015 Participating Cars
There Can Only Be One….
1. Bugatti PUR BLANC
2. Bugatti HELLBUG
3. Bugatti Whitesse
4. Bugatti Vitesse
5. Bugatti EB 110SS
6. Pagani Huayra
7. Porsche 918
8. Porsche 918
9. Saleen S7
10. Lexus LFA
11. Lamborghini Aventador
12. Lamborghini Aventador
13. Lamborghini Aventador
14. Lamborghini Aventador
15. Lamborghini Aventador
16. Lamborghini Aventador
17. Lamborghini Aventador
18. Lamborghini Huracan
19. Lamborghini LP 550-2
20. Lamborghini Murcielago SV
21. Lamborghini Murcielago SV
22. Lamborghini Murcielago
23. Lamborghini Murcielago
24. Lamborghini Gallardo
25. Lamborghini Gallardo
26. Ferrari F12
27. Ferrari 458 Speciale
28. Ferrari 458
29. Ferrari 458
30. Ferrari 458
31. Ferrari 458
32. Ferrari FF
33. Ferrari California
34. Ferrari 430 Scuderia
35. Ford GT (Belladonna – La Squalo)
36. Ford GT
37. Rolls Royce Phantom
38. Rolls Royce Wraith
39. Rolls Royce Wraith
40. Rolls Royce Ghost
41. Rolls Royce Ghost
42. Rolls Royce Ghost
43. Rolls Royce Ghost
44. Rolls Royce Ghost
45. Bentley Continental GT Speed Le Mans Edition
46. Aston DB9
47. McLaren MP4-12C
48. Porsche 911 Turbo S
49. Porsche 911 Turbo
50. Porsche GT2
51. Porsche WC-GT3
52. Porsche GT3
53. Maserati GT
54. Maserati GT
55. MBZ SLS AMG BRABUS
56. MBZ SLS AMG GT
57. MBZ SLS AMG
58. MBZ SLS AMG
59. MBZ G63
60. MBZ G63
61. MBZ E63
62. MBZ C63
63. BMW i8
64. BMW M6
65. BMW M5
66. BMW M4
67. Audi RS7
68. Audi RS7
69. Audi RS7 APR
70. Audi R8
71. Audi R8
72. Audi R8
73. Hellcat
74. GTR
75. GTR
76. GTR
77. GTR
78. Jaguar F Type
79. Cadillac CTSV
80. Corvette ZR1
81. Corvette
82. Corvette
83. Corvette
84. SportChassis
85. SportChassis
86. Lotus Evora
87. Dodge Viper
88. BMW M4 Club
89. Mercedes AMG GT S
90. International CXT"
[/showhide]