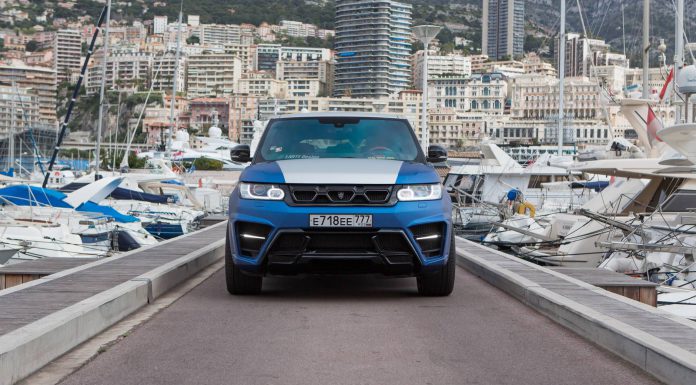 Larte Design offers a selection of tuning and upgrade packages for the Range Rover Sport and one example was recently photographed in Monaco's exclusive harbour. This particular Range Rover Sport is powered by the SDV8 engine.
Typically, this engine delivers 339 hp. However, Larte Design has managed to extract 400 hp from the engine. Alongside the small boost in power, the car includes a thoroughly revised exterior which is particularly eye-catching thanks to its bold front fascia.
That new fascia incorporates a uniquely shaped grille, enlarged air intakes and a new bumper and splitter package. Elsewhere, it includes new side skirts, a set of satin black wheels while the rear is characterised by a new bumper, diffuser and roof-mounted spoiler.
[showhide]
"Power unchained
400 diesel horses for the Range Rover Sport WINNER by LARTE Design
The Range Rover Sport WINNER is out of the cage! Now, the star from the Top Marques supercar show celebrates its firs rollout on the streets of Monaco. No matter if it was standing in front of the Casino famous Monte-Carlo or driving to the posh yacht harbor – this car was always catching the eyes of the rich and famous.
LARTE Design has created a swift giant that simply has drive: The premium tuner has pushed the series power from 250 kW / 339 hp to 294 kW / 400 hp for the SDV8. The catching design is equally effective as the engine: The WINNER features an all new color scheme in blue and silver, which makes the car look like a very exclusive and precious king-size muscle car. Moreover, this appearance goes well with the SUV's bodywork.
LARTE has made the WINNER very aggressive and dynamic, particularly through the uniquely designed grill, characterized by three frames taking the form of inverted trapezoids. The front apron is characterized by various polygons, air inlets and lightsteps, making the bumper appear almost biological. The black central part with its large air grid visually breaks up the monolithic front and thus adds some extra dynamism and sportiness. The LED daytime running lights are also interesting elements.
At the muscular back, the Range Rover Sport WINNER looks especially elegant. Small spoiler fins and fine air inlets break up the design. The lateral grids make for the necessary dynamism, stretching down to the fenders. Some extra excitement is provided by the bottom part, again characterized by irregular polygons. This is also the home of the four-flow LARTE exhaust system, which with its black chrome-plated tailpipes looks extremely daring. And finally there is the central LED brake light. However, while there is a pedal to stop the car there is no switch to stop the fun!
[/showhide]