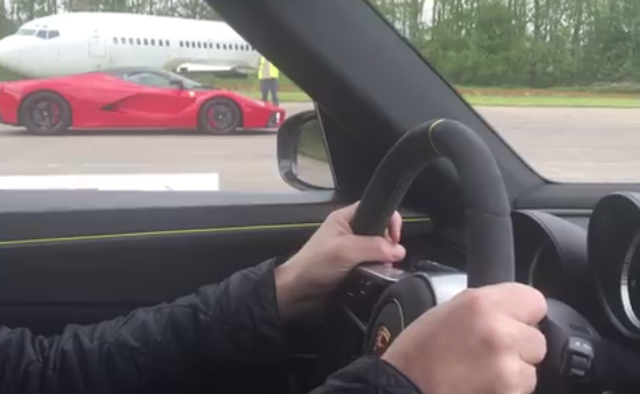 What's faster, the Porsche 918 Spyder or Ferrari LaFerrari? Well it is near impossible to give a definitive answer on that because no back-to-back performance and verified performance tests have been done between the two hybrid hypercars. Nevertheless, the following video from a recent Vmax200 event does give us an idea of how the two compare.
[youtube]https://www.youtube.com/watch?v=ZX6NnZgg5GI[/youtube]
In terms of acceleration, the 918 Spyder launches off the line faster than the LaFerrari. This isn't all that surprising as tests have shown it is the quickest accelerator of the three hybrid hypercars at least to 100 km/h. Unfortunately, the following video doesn't show where the LaFerrari was compared to the 918 as the drag race progressed but in the end, the German topped out at 330 km/h (205 mph).
On paper, the Porsche 918 Spyder delivers 887 hp from its naturally aspirated 4.6-litre V8 engine and two electric motors. By comparison, the LaFerrari pumps out 950 hp thanks to its 6.3-litre V12 and electric motor.