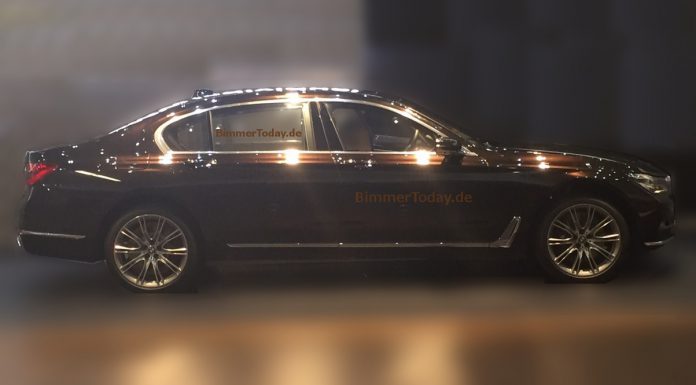 A profile photo of the 2016 BMW 7-Series was leaked today ahead of the car's official debut, expect at the Frankfurt Motor Show 2015. The styling of range-topping BMW limousine had been a secret until today, although its technology is being talked about quite openly. The pictures reveal a profile that hasn't changed much. The entire package is said to give Mercedes-Benz and Audi a run for their money.
The side profile reveals a curvier car with a lower rear boot and larger rear doors. Chrome trim runs across the side sills, together with an air vent behind the front wheel. We already know that the 2016 BMW 7-Series will feature new LED front headlights, the changes at the rear are less clear.
The 2016 BMW 7-Series is said to feature carboxylic Core construction; a mixture of carbon, steel, aluminium and plastic body parts. The combination of materials is said to save 130 kgs over the outgoing model. One third of that is down to the body panels alone.
The 2016 BMW 7-Series will also get the new B58 turbocharged straight-six engine. Expect an eight-cylinder petrol engine as well as six and eight cylinder diesel units. BMW have confirmed that the V12 powerplant will also make the cut, it is expected to debut in mid-2016. Also expect hybrid drive options. BMW have hinted that development of a four-cylinder 2.0 liter petrol engine is being considered for China as well as a 2.0 liter diesel for Europe.
Another big feature of the 2016 BMW 7-Series will be a revamped infotainment system. It is the first touch display to be fitted to a 7-Series model and will be coupled with a Bang & Olufsen sound system as standard equipment. Optional equipment will include driver assistance and autonomous driving systems. With a nod of the hat to James Bond's 7-Series in Goldeneye, the new version will be able to park itself; without a driver behind the wheel!
[Via Bimmertoday]