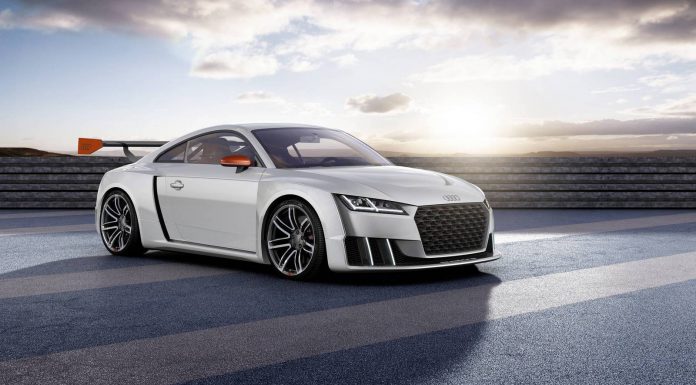 Audi will bring new technology to Wörthersee Tour 2015 in form of a new Audi TT Clubsport Turbo Concept show car. Highlighting this technology is a new electric biturbo that supplies more torque and high peak power to the 2.5 TFSI engine found on the road going Audi TT car. As a result the new show car develops a total of 600hp and 650 Nm of torque enabling it to sprint from naught to 100 km/h in just 3.6 seconds before achieving a top speed of 310 km/h.
VW Group has headlined Wörthersee Tour events year after year and last year they showcased a VW GTI Roadster Vision Gran Turismo that largely stole the show. With the new Audi TT Clubsport Turbo Concept – which is inspired by the Audi 90 IMSA GTO of the late 1980s -Audi claims that the technology used is near production readiness. The electric biturbo system will be used in future TDI models, Audi is the first manufacturer to showcase this technology.
Speaking ahead of the big event, Prof. Dr. Ulrich Hackenberg, Audi Board Member for Technical Development said: "The electric biturbo signifies a new dimension in driving enjoyment; it boosts sprinting ability and torque and enables high peak power. In our TDI engines, we are close to production readiness with this technology. We are now presenting it in a TFSI – here too, we are the first automaker in the world to do this. For our fans at Wörthersee, we have packaged the electric biturbo in a very sporty show car."
The new electrically powered compressor eliminates any turbo lag that is found in a conventional turbocharger system. The e-turbo is able to provide quick responses at all times with quick sprints as well. When placed against counterparts that lack this technology, the new TT Clubsport Turbo Concept pulls away quickly with little effort even at low engine speeds.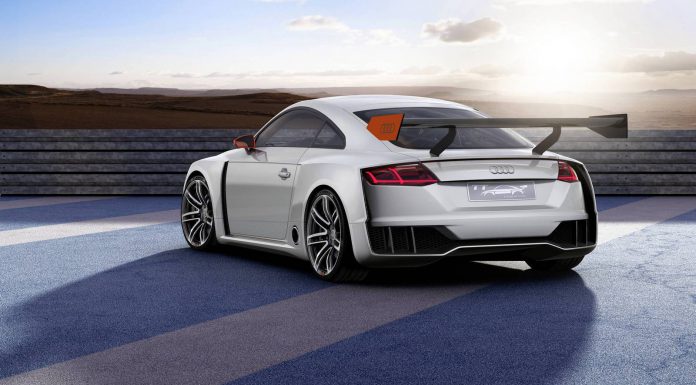 There is a 48‑volt electrical sub-system that feeds electrical energy to the turbocharger, at low speeds the electrically powered compressor will provide up to 200 Nm of torque. A lithium-ion battery is used to store the energy generated while coasting which is in turn used by the e-turbo. The 2.5 TFSI engine features a racing-type radiator which is used for cooling, the exhaust system is specially designed for minimal back pressure.
The new Audi TT Clubsport Turbo Concept features the quattro permanent all-wheel drive system. Its suspension system comprises of a coilover system, electric lifting/lowering system, electronic stabilization control (ESC) and torque vectoring. The 20-inch wheels come in a six twin-spoke design finished in bicolor tone while the braking system utilizes carbon-fiber ceramic brake discs.
The interior features both motorsport and luxury blend features, racing bucket seats with four-point harness are just a few. The seats are finished in coral orange Alcantara with contrast stitching, CFRP parts are extensively used in the interior too. The digital Audi virtual cockpit found in the road going TT model is also used here, and more driving options which can be accessed on the multifunctional steering wheel.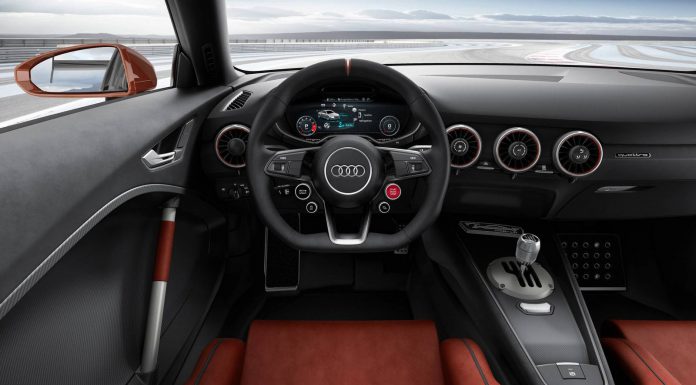 Compared to the road going Audi TT which we reviewed several weeks ago, the new TT Clubsport Turbo Concept has a wider body measuring 4.33 meters long and 1.97 meters wide. The show car weighs 1,396 kg and borrows technology from the new Audi TT Sport Cup race car such as the manually adjustable rear wing. The wing, air-inlets, splitters, side panels and diffuser are all made of carbon-fiber reinforced polymer.
Stay with us for live photos of the new Audi TT Clubsport Turbo Concept from the Wörthersee Tour 2015 in Austria which kicks off next week.