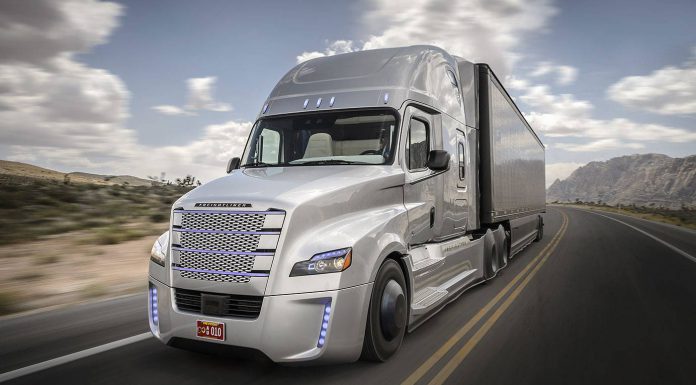 Daimler-owned Freightliner Trucks unveiled their first commercial autonomous truck last night at Hoover Dam. Dubbed the Freightliner Inspiration Truck, its the first licensed autonomous truck to operate on public highways in North America. The project was developed by Daimler Trucks North America (DTNA) with four main objectives namely reducing road accidents, bettering fuel economy, reducing highway congestion and safeguarding the environment in general.
The new Freightliner Inspiration Truck reflects the Mercedes-Benz Future Truck 2025 which was announced last year. They share similar hardware and software and both offer the option of self-driving. The Freightliner autonomous truck requires the truck driver to be at the controls at all time ready to manually take the wheel, same case applies to the Mercedes-Benz Future Truck 2025.
Freightliner Trucks stated: "Just to clarify, an autonomous on-highway truck is not a driverless vehicle. In fact, the technology being developed as part of the Freightliner Inspiration Truck, along with regulations like those here in Nevada, require that a qualified truck driver with a valid commercial driver's license be in the cab and at the controls."
The team was given a license to operate on public roads by Nevada Gov. Brian Sandoval on Tuesday, prior to that they had put the truck through extreme testing. As the leading heavy duty truck manufacturer in North America, DTNA which also owns Western Star and Thomas Built Buses employed their latest connectivity technology some of which is tweaked from that used on Mercedes-Benz Actros trucks in order to deliver the best results.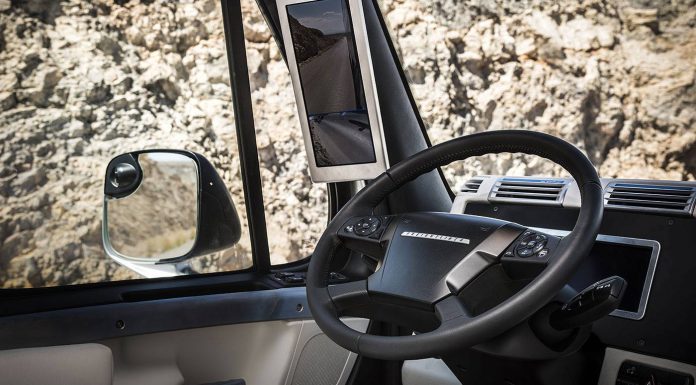 Highlighting the technology used in the Freightliner Inspiration Truck is a Highway Pilot system which combines cameras and a radar unit to aid in lane stability, collision avoidance, speed control and other daily driving techniques. The radar unit comprises of both a long range radar of 820 feet and short range radar of 230 feet. Other systems include the Adaptive Cruise Control Plus which controls the distance and speed of the truck from 0mph to vmax.
Senior Vice President, Sales & Marketing, DTNA Richard Howard concluded : "Freightliner Trucks does more than any other commercial truck manufacturer to integrate the truck, the driver and the business. The Freightliner Inspiration Truck is a case in point because it is not a driverless truck the driver is a key part of a collaborative vehicle system. With the Freightliner Inspiration Truck, drivers can optimize their time on the road while also handling other important logistical tasks, from scheduling to routing. The autonomous vehicle technology not only contributes to improved safety and efficiency, but allows for improved communication through connectivity and integration."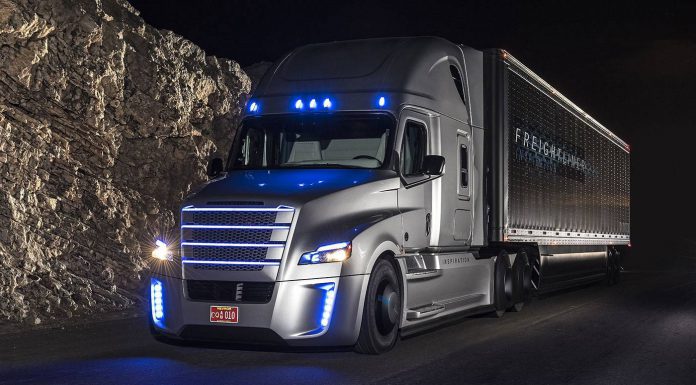 The Freightliner Inspiration Truck is another step towards future mobility. We follow the development of autonomous vehicles closely and also invite our readers and fans to take a look at our recent reviews of other autonomous vehicles including the Mercedes-Benz F015 Luxury in Motion Concept, the Audi RS7 Piloted Driving Concept and the Mercedes-Benz S500 Intelligent Drive.