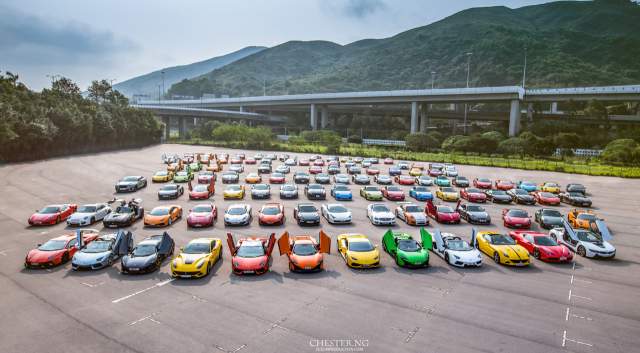 When it comes to supercar and hypercar rich countries and cities, few in the world can compete with Hong Kong. Thanks to a bustling automotive scene as well as a myriad of wealthy businesspersons, it is little surprise why Hong Kong is such a mecca for the world's most expensive and exclusive cars. Need some evidence of this? Just take a look at our latest Photo Of The Day!
Taken by resident GTspirit contributor Chester NG of Suzuki Production, this image provides just a snippet of some of the best cars currently residing in Hong Kong. Some of the most impressive include a selection of Lamborghini Aventador Roadsters, a Ferrari California T, BMW i8, a Ferrari F12 Berlinetta and at least three McLaren 650Ss. Rather incredibly, that is just some of the cars in the first row!
Others featured include the likes of a Ferrari 430 Scuderia, Mercedes-Benz SLS AMG, Lamborghini Murcielago LP670-4 SV, a selection of Nissan GT-Rs, endless numbers of Porsche 911s and even a Bentley Continental Super Sport!