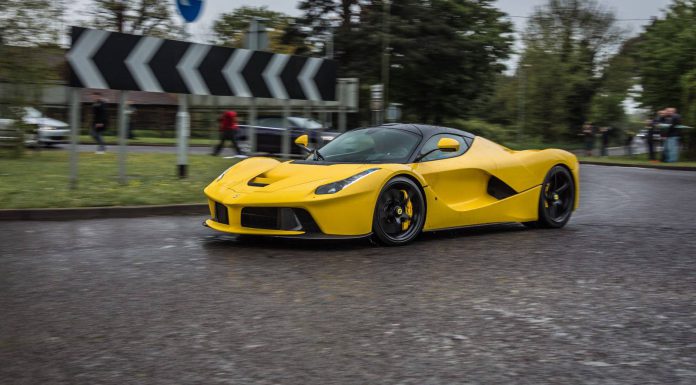 Goodwood kicked off their Goodwood Breakfast Club 2015 calendar this morning with the annual Supercar Sunday meeting. For those that haven't come across the Goodwood Breakfast Club before, it is one the UK's best free entry event. It gathers supercar owners and enthusiasts at a historic racing venue, what could be more perfect?
Unfortunately, the weather was not on our side this morning. Heavy rain and low cloud probably deterred the majority of supercar owners. Fortunately, we were treated to a large number of brave owners who battled wind, rain and poor visibility to share their supercars with us.
Upon our arrival we were treated by a downpour. Having walked from the car park to the circuit and got thoroughly soaked, we ducked for cover under the pit lane boxes. Little did we know that this simple act would mean we missed two highlights in the Porsche 918 Spyder and Koenigsegg Agera R which left early. No worries though, there was plenty else to see.
Every year, the Breakfast Club gets more and more organised. This year, the cars were evenly spread across the start-finish straight, the first corner, the last corner and the paddock. The majority of the must-see's were on the start finish straight. We spotted a Mercedes-Benz SLR McLaren 772, two Lamborghini Diablo's, a Lamborghini Miura and a Ferrari F40 among others.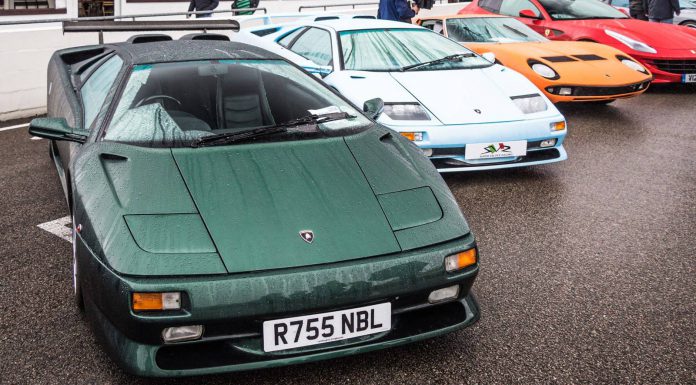 Elsewhere, we spotted a Nissan GT-R Nismo, one of only a handful in the UK, a Mercedes-AMG GT S, a unique Ferrari 458 Aperta and a DeLorean. One unexpected sight was the Mansory Mercedes-Benz S 63 AMG, a car we would never have expect to see in the UK. It looks as though it had the complete exterior and interior package.
It wasn't until quite late that three stars of the show turned up. The Pagani Zonda S was the first. A unique example, it has been retro fitted with a Capristo exhaust system. The second was a stunning yellow LaFerrari which turned up together with the third, a vivid yellow Lamborghini Aventador LP720-4 Roadster; the 50th anniversary special edition.
Enjoy the extensive galleries above. We will of course be back at Goodwood next year for Supercar Sunday. If you are interested in attending a Goodwood Breakfast Club meeting, there are four more throughout the year so be sure to check those out. We will also be reporting live from the Goodwood Festival of Speed and the Goodwood Revival later this year.