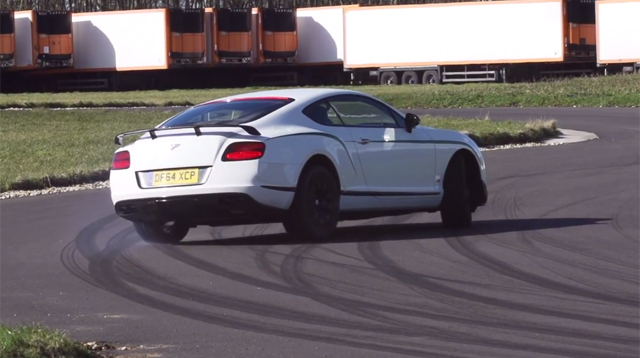 Despite being the most hardcore Continental ever offered, the Bentley Continental GT3 R still tips the scales at 2195 kg. Nevertheless, the car has been created as a follow on from the GT3 racing car and as Chris Harris recently found out, the performance-oriented Bentley coupe is quite potent in a straight line and through the corners.
[youtube]https://www.youtube.com/watch?v=MJD4OLMbkdM[/youtube]
As you'd expect from any Chris Harris video, nothing is complete without some hilarious drifts and this clip certainly isn't short of them!
Bentley have opted to use the same 4.0-litre twin-turbo V8 for the GT3-R. It comes with 580 hp and 700 Nm of torque. With the 100 kg weight loss and shorter gearing, the GT3-R is capable of reaching 60 mph from a standstill in just 3.6 seconds (0-100 km/h in 3.8 secs). Upgrades have also been applied to the power train with torque vectoring now available together with a modified Electronic Stability Control (ESC) and a new chassis tune.