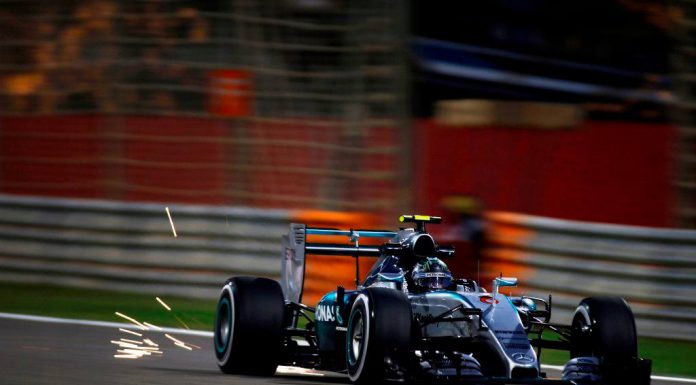 Lewis Hamilton has done it again! The Briton has dominated and won the 2015 Formula 1 Bahrain Grand Prix with Ferrari's Kimi Raikkonen flashing across the finish line in second. Nico Rosberg suffered a crucial braking problem with only one lap remaining allowing Raikkonen to pass him for P2, the German finished third to give Mercedes-AMG a double podium victory as Hamilton overcame a similar problem right on his last lap.
Mercedes boss Toto Wolff said afterwards that just one more lap and Raikkonen could have won – the Ferrari was only just over three seconds behind Hamilton's ailing Mercedes at the flag.
The Bahrain Grand Prix remains the only Formula 1 Grand Prix to be held in the Middle East, with the first race taking place in 2004. It has been recognised as the best organised Grand Prix by FIA and the first corner on the circuit is named after Michael Schumacher to honour his achievements.
The race kicked off with all drivers but Lotus' Pastor Maldonado racing on soft rubber, Williams' Felipe Massa had to start from the pit lane after his car developed a small mishap. McLaren's Jenson Button suffered the biggest blow after his car failed to make it to the start due to electrical problems, leaving only one other McLaren car piloted by Fernando Alonso. Elsewhere in the field, World Champion Lewis Hamilton led the pack and immediately after DRS was activated the Briton rose out of range leading Sebastian Vettel, Nico Rosberg and Kimi Raikkonen.
Rosberg had briefly lost his third place to Raikkonen but fought his way back, leaving the Finn in the hands of Williams' Valtteri Bottas. From that point on Rosberg was measuring up to Vettel's speed and he made his move on Lap 9 at the Schumacher turn and passed the German for second. Despite this move, Ferrari had a plan to pit early in order to undercut the dominant Mercedes. Vettel pitted from P3 for more soft rubber, Rosberg followed him shortly but the move worked in favour of Ferrari as Vettel emerged in P2 ahead of the Mercedes driver.
It didn't take long before Rosberg snatched back P2 from Vettel, resulting to a change of strategy by Ferrari. Raikkonen changed to medium tyres in order to finish on the soft ones which were fastest. With 20 laps gone, Mercedes led the field followed by Ferrari's Vettel and Raikkonen while Bottas was fifth for Williams. The race was now quiet for a while with action concentrated in the middle of the field. The Mercedes duo had created a significant margin between them and the Ferraris.
Vettel pitted again on lap 37 after reporting a front wing damage to his car after going wide on a corner. The German also took a fresh set of medium tyres and rejoined the race in P5 behind Bottas. Elsewhere, Raikkonen pitted for soft rubber and was now third behind the dominant Mercedes cars. Lotus' Maldonado had been shuffling positions in the middle of the field, aiming to finish in the top 10 after not finished a race in the 2015 season.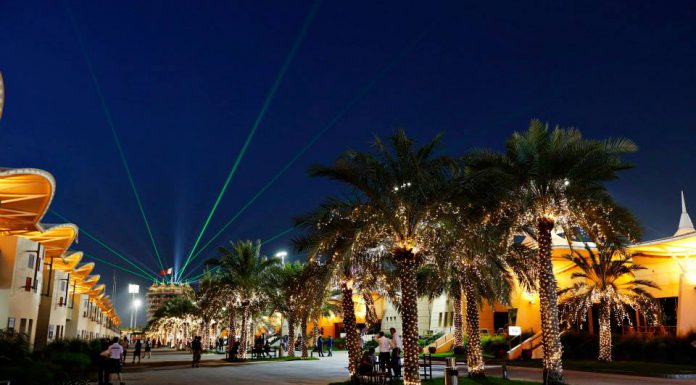 Practice and Qualifying Report
FP1 kicked off with a double win from Ferrari where Kimi Raikkonen recorded the fastest time ahead of teammate Sebastian Vettel. The session saw eight different drivers set quickest times, namely Nico Rosberg, Valtteri Bottas, Sebastian Vettel, Kimi Raikkonen, Sergio Perez, Fernando Alonso, Max Verstappen and Daniel Ricciardo. World Champion Lewis Hamilton had a rather slow day, the Mercedes duo finished in 15th and 16th places as they utilised their medium compound tyres earlier in the session.
The session saw a lot of mishaps including that of Jenson Button who spun his car at Turn 2 due to an electrical fault. Turn 10 proved difficult for most drivers too, there was lack of grip as track temperatures gradually fell on the Sakhir circuit.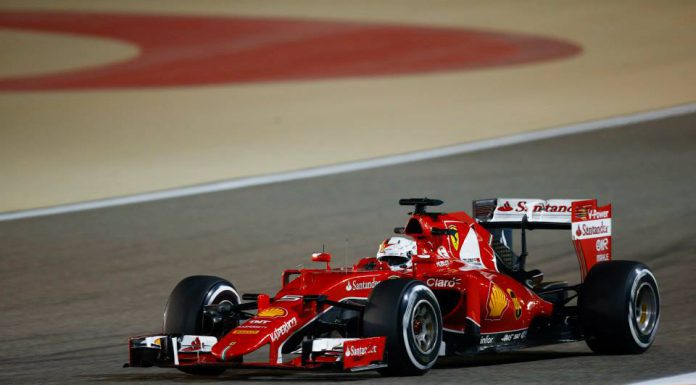 FP2 session reflected what the drivers would face in the 2015 Bahrain Grand Prix main race as the conditions were similar. Mercedes showed their true colours by going fastest in this session, Rosberg leading Hamilton with only a second separating them. Ferrari has already proven it's capable of challenging the Silver Arrows, Raikkonen was third while teammate Vettel flashed across the line in fourth. Earlier on Vettel had made contact with Force India's Sergio Perez in Turn 1, ushering a brief moment of the red flag.
FP3 came down to another fierce shoot-out between Mercedes and Ferrari, with Hamilton emerging quickest ahead of Ferrari's Vettel. The two were only separated by 0.069s, Rosberg crossed the line in third ahead of Ferrari's second man Raikkonen. Hamilton only managed to set the quickest time after changing to soft rubber in the last 10 minutes – he was running ninth prior to that on medium tyres. Williams' Bottas led teammate Felipe Massa in fifth place, while Lotus Pastor Maldonado settled in seventh.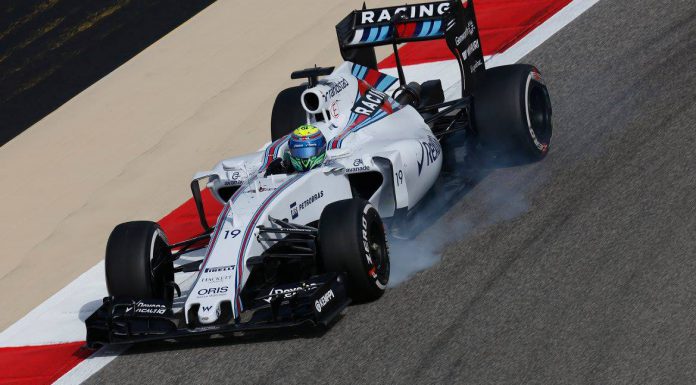 Hamilton swept the qualifying sessions clean with a series of fastest times to win his fourth consecutive pole of the season. This was also his first ever pole in Sakhir. Raikkonen holds the most podium wins in the Bahrain Grand Prix. Q1 saw Hamilton emerge quickest with an impressive 1m 33.928s lap to lead Williams' Bottas and Rosberg. Button's McLaren failed again forcing him to quit before recording any time. Maldonado's Lotus also failed with an engine problem.
Raikkonen managed to be among the top three in Q2, with Hamilton in the lead and Massa in third for Williams. Hamilton emerged quickest again during Q3 with a 1m 32.571s lap, to lead Vettel whose time of 1m 32.982s denied Rosberg a place in the front row during the main race. Rosberg was third while Raikkonen crossed the line fourth.
The next round of the 2015 Formula 1 season will head over to Spain for the Spanish Grand Prix from May 8 to 10.
Top 10 Results