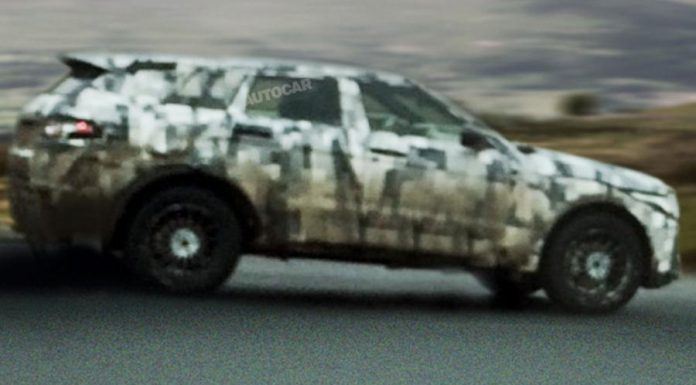 Just a few days after reports emerged suggesting that a model to sit between the Range Rover Evoque and Range Rover Sport is in the works, a grainy spy shot has emerged from the United Kingdom believed to be showing such a car.
Tentatively dubbed the Range Rover Evoque Plus, the following prototype appears to be wearing a modified variant of the Evoque's body but with a stretched wheelbase. The car will apparently act as Range Rover's equivalent of the impending Jaguar F-Pace crossover and is pinned to be offered in both five-seat and seven-seat configurations.
Powering the new Range Rover model will be Jaguar Land Rover's current range of Ingenium petrol and diesel engines with the most powerful models speculated to make use of a petrol V6. If the car draws on the F-Pace in its development, then there's also a possibility that aluminium will be heavily employed to minimise the SUV's weight.
Elsewhere, height-adjustable air suspension could be installed alongside a selection of traction control systems. While the car will be more focused towards on-road driving than the Range Rover Sport, it will still be capable of going off road when necessary.
It is suggested that the new model will be targeted directly at people who don't want a Range Rover with seven seats nor a car as small as the Evoque or as big as the Sport. There is reportedly a growing number of Range Rover customers looking for such a model.
When speaking about the possibility of a new Range Rover model at the New York Auto Show 2015, the firm's design director Gerry McGovern said "I've said there's lots of 'white space' opportunities for Range Rover… I don't need to confirm it…" he said while looking towards PR staff for direction.