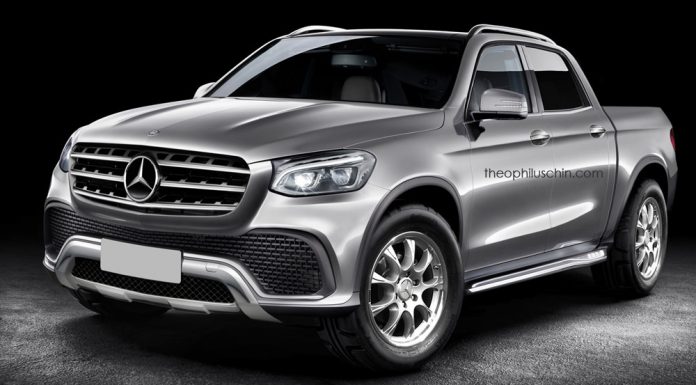 In late March, Mercedes-Benz announced its intention to produce a luxurious pickup truck by the year 2020. Alongside that initial revelation, Mercedes-Benz Vans released a tentative rendering depicting how the car could look.
While an official rendering from the German marque has been revealed, the design of the pickup truck is far from finalised and will inevitably be modified by the time the car reaches the market. With that in mind, Theophilus Chin has decided to create his own version of the Mercedes-Benz pickup taking inspiration from the other models currently produced by the automaker.
The front end of Chin's creation has evidently been inspired by the recently revealed Mercedes-Benz GLE with similar headlights as well as gaping large air intakes.
Mercedes-Benz claims that the midsize pickup segment is in the midst of a worldwide transition and the firm believes it will be the first premium automaker to respond to the increasing demand for pickups with car-like specifications.
When initially discussing the car, chairman of the Board of Management for Daimler AG and head of Mercedes-Benz Cars Division Dieter Zetsche said "The Mercedes-Benz pickup will contribute nicely to our global growth targets. We will enter this segment with our distinctive brand identity and all of the vehicle attributes that are typical of the brand with regard to safety, comfort, powertrains, and value."
[Via Theophilus Chin]