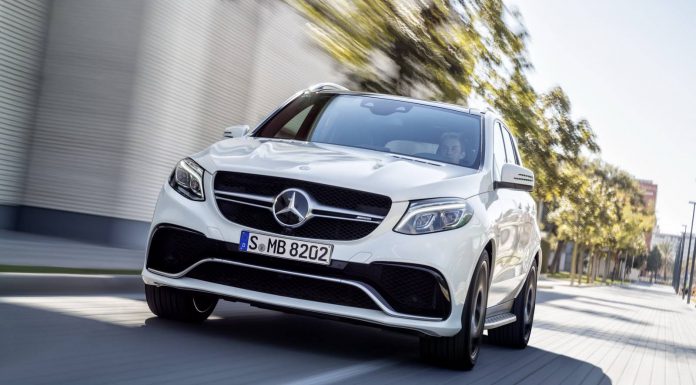 After the M-Class replacing 2016 Mercedes-Benz GLE was revealed a few days ago, a selection of videos for the luxurious off-roader have been released. In the four videos embedded, we get to see the Mercedes-Benz GLE250d, GLE500e 4Matic and Mercedes-AMG GLE63 S models on the move for the very first time. The entire range will debut at next week's New York Auto Show 2015 starting on April 1st.
[youtube]https://www.youtube.com/watch?v=wiFlqhudDTk[/youtube]
As a refresher, the entry-level Mercedes-Benz GLE250d makes use of a 2.0-litre diesel four-cylinder engine delivering 201 hp and returning an impressive 52.3 mpg on the combined cycle while emitting 140 g/km of CO2 emissions. Elsewhere is the Mercedes-Benz GLE350d offered with a 3.0-litre V6 diesel pumping out a more substantial 254 hp and 457 lb-ft of torque. This GLE variant returns 44.1 mpg and 169 g/km of CO2 emissions.
[youtube]https://www.youtube.com/watch?v=ww5dCKKpYX4[/youtube]
[youtube]https://www.youtube.com/watch?v=JeT2yuqJaZc[/youtube]
Significantly, a plug-in hybrid version is also available thus becoming the German marque's very first plug-in hybrid SUV. It is dubbed the Mercedes-Benz GLE500e 4Matic and adopts a twin-turbocharged 3.0-litre V6 engine with 328 hp and 354 lb-ft of torque. Alongside this internal combustion engine is an electric motor providing an additional 114 hp resulting in 436 hp and 479 lb-ft. The transmission found on this GLE version is a seven-speed dual-clutch transmission driving all four wheels. In pure electric mode, the GLE500e 4Matic can travel 28 km and reach a top speed of 128 km/h. All other GLE versions utilise a nine-speed automatic 'box.
[youtube]https://www.youtube.com/watch?v=GD9lSB160g4[/youtube]

At the top of the range is the Mercedes-AMG GLE63 S. It features the German firm's staple 5.5-litre twin-turbocharged V8 engine delivering a total of 577 hp as well as 561 lb-ft of torque. As a result of this power and torque, the potent GLE derivative will rocket to 100 km/h in a mere 4.2 seconds as well as an electronically limited top speed of 250 km/h (155 mph). It returns 23.9 mpg on the combined cycle and 278 g/km of CO2 emissions.