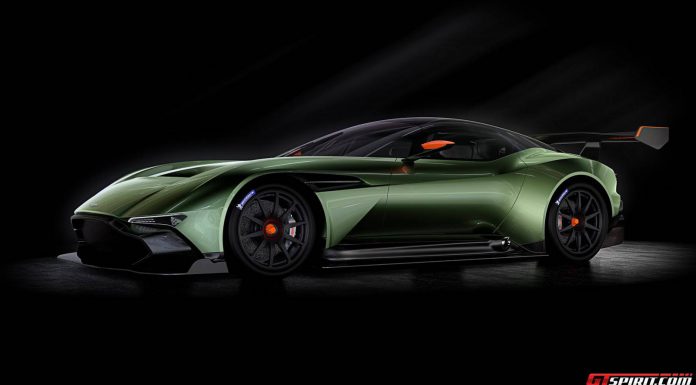 The recently revealed Aston Martin Vulcan hypercar is set to celebrate its North American debut at next week's New York Auto Show 2015. The Vulcan will be displayed alongside a Vanquish Carbon Black, Vantage GT Roadster, Rapide S and DB9 at the British firm's expansive show booth.
Discussing the Vulcan's impending North America reveal, the firm's chief executive Andy Palmer said "We are enormously encouraged by the overwhelmingly positive reaction we have received from customers and sports car fans around the world in response to the Aston Martin Vulcan. I'm delighted that after a debut in Geneva we are able to bring the car to our North American audience, underlining the importance of this market to our business and its role in delivering our Second Century business plan."
Powering the Aston Martin Vulcan is an entirely new engine which holds the accolade as the world's most powerful naturally aspirated production engine and contrary to previous reports, it is unrelated to the Aston Martin One-77's 7.3-litre V12. In fact, it has been developed by Aston Martin Racing and is a V12 displacing 7.0-litres and delivering over 800 hp. Certain specifications about the engine remain unclear but it will reportedly help power the Aston Martin Vulcan to a top speed exceeding 320 km/h (200 mph).
The aforementioned 7.0-litre V12 is coupled with an Xtrac six-speed sequential transmission related to the system from the Aston Martin Vantage GTE race car. Drive is then sent through the rear wheels.
Underpinning the Aston Martin Vulcan is a carbon fibre monocoque similar to the one from the One-77. Compared to the tub of the One-77 however, 50 per cent of the Vulcan's tub is brand new and despite the reduced weight, it is also stiffer and now supports an FIA-approved roll cage. Suspension wise, the Vulcan utilises a pushrod system with both adjustable dampers and adjustable sway bars. Connecting the Aston Martin Vulcan to the track are 19-inch alloy wheels complete with custom 345/30 section Michelin tyres at the rear.