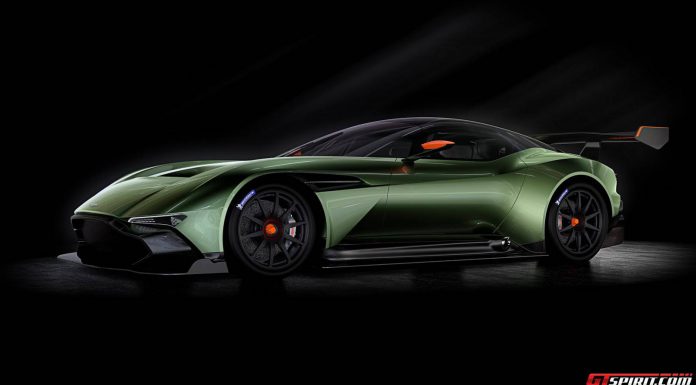 After one teaser image and a rather revealing teaser video, the track-only Aston Martin Vulcan has been officially introduced prior to the Geneva Motor Show 2015 kicking off in just a week's time. A mere 24 examples of the Aston Martin Vulcan will be created and it has been designed as the British firm's first true hypercar to rival the McLaren P1 GTR and LaFerrari FXX K.
Powering the Aston Martin Vulcan is an entirely new engine which holds the accolade as the world's most powerful naturally aspirated production engine and contrary to previous reports, it is unrelated to the Aston Martin One-77's 7.3-litre V12. In fact, it has been developed by Aston Martin Racing and is a V12 displacing 7.0-litres and delivering over 800 hp. Certain specifications about the engine remain unclear but it will reportedly help power the Aston Martin Vulcan to a top speed exceeding 320 km/h (200 mph).
The aforementioned 7.0-litre V12 is coupled with an Xtrac six-speed sequential transmission related to the system from the Aston Martin Vantage GTE race car. Drive is then sent through the rear wheels.
Underpinning the Aston Martin Vulcan is a carbon fibre monocoque similar to the one from the One-77. Compared to the tub of the One-77 however, 50 per cent of the Vulcan's tub is brand new and despite the reduced weight, it is also stiffer and now supports an FIA-approved roll cage. Suspension wise, the Vulcan utilises a pushrod system with both adjustable dampers and adjustable sway bars. Connecting the Aston Martin Vulcan to the track are 19-inch alloy wheels complete with custom 345/30 section Michelin tyres at the rear.
Other key technical specifications about the Aston Martin Vulcan include is carbon ceramic brake discs joined with Brembo calipers. The new discs measure 380 mm in diameter up front and 360 mm at the rear. The ABS system comes courtesy of Bosch. Elsewhere, the Vulcan incorporates a limited-slip differential, an advanced variable traction control system as well as a magnesium torque tube complete with a propeller shaft made from lightweight and strong carbon fibre.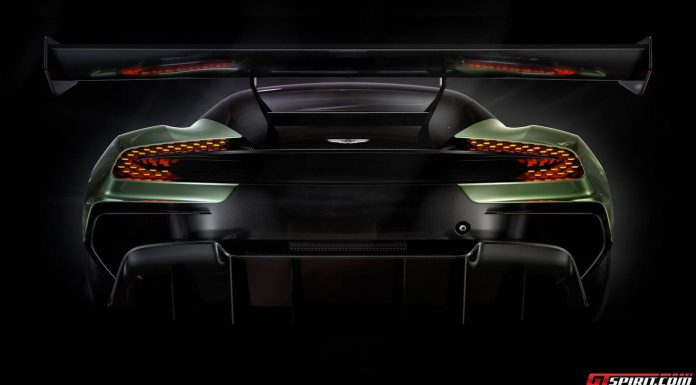 Compared to the Aston Martin One-77, previously the marque's most expensive and fastest model, the Vulcan tips the scales at 150 kg while being 200 mm wider and 100 mm lower. As we revealed following the release of the first teaser, the name of the Vulcan derives from the jet aircraft which used to use the firm's Gaydon headquarters as their base.
In a similar vein to the McLaren P1 GTR and LaFerrari FXX K, the British marque will offer a support package for Vulcan owners. Prior to customers taking delivery of their Vulcan's, they will take part in a plethora of track days driving cars like the Vantage GT4 and One-77. Additionally, they'll be able to use Base Performance Simulators for simulated race experience. Finally, a professional racing driver will help coach owners on driving the Vulcan when they take delivery with a number of private track days to be held with mechanical support also offered.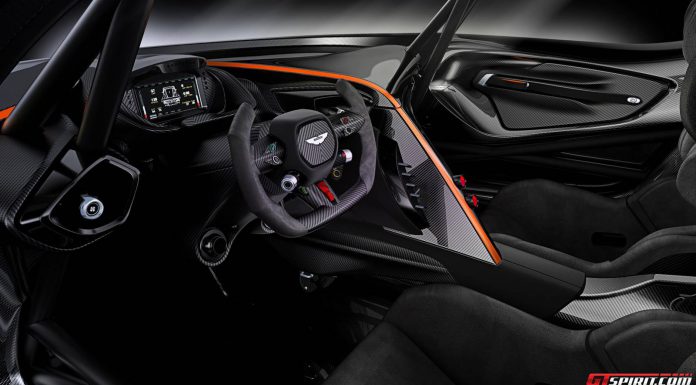 Visually, the Aston Martin Vulcan is unlike any other car from the British firm yet is still recognisable as an Aston. With that in mind, it features a shape somewhat reminiscent of the One-77 but with all-new body panels for a substantially more aggressive appearance. The front fascia incorporates a relatively small grille set to inspire the design of future Aston Martin products. Additionally, slim LED headlights are featured. Elsewhere, the Aston Martin Vulcan features a towering rear wing, a menacing rear diffuser and eye-catching taillights with 27 individual LEDs each.

Discussing the car, Aston Martin design chief Marek Reichman said, "This is clearly a very powerful car. The beauty is there to see. This is a track car but one done with perfect proportions and surfacing in mind, all natural and created from form and shape in our typical way. The soul comes from the team. We've got our best engineers and designers on this car. It's the sort of car a designer gets up in the morning for."
[showhide]
Introducing the Aston Martin Vulcan – a track-only supercar and the British luxury brand's most intense and exhilarating creation to date.
Born out of extensive motorsport experience – and using the brand's acknowledged flair for design and engineering ingenuity – the 800-plus bhp, all-carbon fibre Aston Martin Vulcan promises truly extreme performance.
Uniquely for Aston Martin, the new supercar – limited to just 24 examples worldwide – will allow owners the opportunity to precisely tailor their track day experience through a graduating scale of detailed power and dynamic performance adjustments.
CEO, Dr Andy Palmer, said: "Aston Martin Vulcan is, by its very nature, a rare and thrilling supercar. Designed and engineered to deliver a genuinely bespoke driving experience that draws on our rich heritage, this car tailors its power and handling to both the capabilities of the driver and the characteristics of the track.
"A sports car for true sports car lovers, I believe the Aston Martin Vulcan – and the unique ownership programme that sits behind it – sets a whole new standard in the ultra-high luxury supercar class."
Motorsport-inspired
Styled entirely in-house by the Aston Martin design team led by Chief Creative Officer Marek Reichman, and with a design language hinting at the next generation of Aston Martin sports cars, this supercar is powered by the most potent iteration yet of the company's naturally-aspirated, 7.0-litre V12 petrol engine.
With its 800-plus bhp powerplant developed in conjunction with Aston Martin Racing, this front mid-engined, rear-wheel drive sports car draws extensively on the brand's rich GT motorsport experience.
Utilising the techniques of world-class motorsport engineering, the supercar sees its power-to-weight ratio exceed those of the GTE cars which compete in the FIA's annual World Endurance Championship.
Comprising cutting edge engineering including that sourced from the brand's successful GT racing campaign, the car features a carbon fibre monocoque and body constructed by Aston Martin's long-term specialist body engineering and manufacturing partner Multimatic, integral limited-slip differential, magnesium torque tube with carbon fibre propeller shaft and Brembo racing calipers acting on carbon ceramic racing disc brakes which measure 380mm in diameter at the front and 360mm at the rear.
Drive is channelled to the 345/30 x19 rear wheels and Michelin race specification tyres through a race-bred rear mid-mounted Xtrac six-speed sequential shift gearbox.
Track-derived pushrod suspension with anti-dive geometry is complemented by Multimatic's Dynamic Suspension Spool Valve (DSSV) adjustable dampers and anti-roll bars front and rear, driver-adjustable anti-lock braking, and variable traction control.
The new track car will comply with all relevant FIA race safety requirements.
Aston Martin's Director of Special Projects and Motorsport, David King, said: "Taking the extensive learning from our various successful racing programmes and applying it to this exceptional track car for customers has been an exciting and sometimes challenging task for the team here at Gaydon.
"Our deep and broad motorsport experience, allied to our renowned road car expertise, has allowed us to make the Aston Martin Vulcan the absolutely compelling proposition it is today."
Fast-track training
Prior to taking delivery of their cars, owners will be offered the opportunity to take part in an extensive and detailed programme of intensive track driver training.
Experienced racers including Aston Martin Racing's Le Mans-winning Darren Turner will support owners on their learning journey, offering them the chance to refine their track driving technique and increase their ability through a carefully-constructed series of practical and theoretical driver training events.
Using a number of exciting high performance Aston Martins including the V12 Vantage S and One-77 road cars and the Vantage GT4 race car, customers will gradually build experience and develop their track technique, before beginning their thrilling personal journeys into the immense performance potential of their Aston Martin Vulcan.
David King said: "We will be running a series of exclusive track day events commencing in 2016 that will offer the opportunity for these customers to explore their driving capabilities, and the car's performance potential, on some of the world's most famous and glamorous race circuits."
There will also be the option of time in the virtual race car world of Darren Turner's Base Performance Simulators, where buyers will have ample opportunity to further refine their driving style in the safety of the digital race track.
No longer the exclusive preserve of Formula 1, it is widely acknowledged that using a simulator can help prepare a driver for any race; improving technique and consistency as well as, ultimately, lap times.
Almost infinitely flexible in terms of colour and trim options, the exclusive new sports car will be offered to buyers through Aston Martin's VIP sales programme, using the expertise and luxury customer service that is now a hallmark of the brand's 'Q by Aston Martin' bespoke personalisation service.
Dr Palmer added: "We have already received strong interest from the customers we have spoken to about Aston Martin Vulcan.
"The cars will blend our traditional Aston Martin values of Power, Beauty and Soul with an unrivalled ownership experience; a unique combination that will guarantee their place in the brand's rich and charismatic history."
Performance data, together with further technical details about the ultra-exclusive track-only supercar, will be released closer to its track debut later this year.
The Aston Martin Vulcan will make its world debut on the brand's new stand at the 85th Geneva International Motor Show (Hall 5 Stand 5253) at 10.15am on Tuesday March 3.
[/showhide]