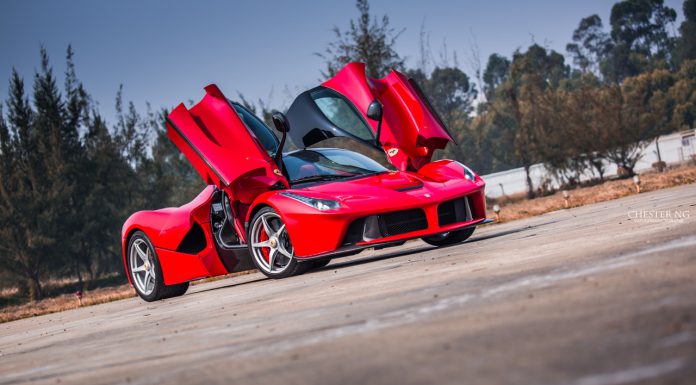 It has emerged that despite driving for Mercedes-Benz in the Formula One World Championship, 2014 world champion Lewis Hamilton recently purchased a new Ferrari LaFerrari.
The revelation was made by Toto Wolff, the Mercedes team boss while recently speaking with German publication Sport Bild. When quizzed if Hamilton has had any contract with the Italian automaker, Wolff responded "Sure, Lewis has had contact with Ferrari. He has just bought a LaFerrari."
The full extent of Hamilton's car collection isn't known but we know he has a Mercedes-Benz SLS AMG Black Series and of course his rather iconic one-off Pagani Zonda 760 LH fitted with a 7.3-litre AMG V12 and a six-speed manual 'box.
Interestingly, it is believed that all 499 examples of the LaFerrari sold out almost instantly back in 2013 with buyers reportedly only considered if they had a collection of at least five other Ferrari models. With this in mind, is there a possibility Hamilton has a secret Ferrari collection? It's possible but it is also possible Hamilton purchased his LaFerrari from a third party dealership inevitably at quite a premium.
Whatever the case may be, the LaFerrari features a 6.3-litre V12 which is connected to an electric motor similar to the system on the McLaren P1. The Ferrari F150 V12 has an output of 789 hp at 9000 rpm and 700 Nm at 7000 rpm while its electric motor has a maximum output of 161 hp and 270 Nm of torque. That delivers a total combined power output of 950 hp.