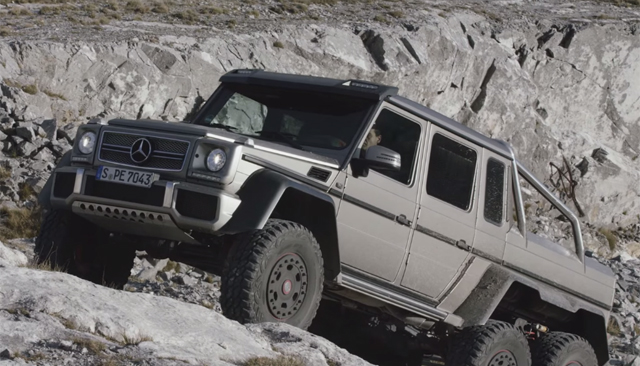 On the back of the Mercedes-Benz G63 AMG 6×6 recently selling out, the German marque has released a new clip of the capable off-roader in action across the mountains of Tuscany. As we've come to learn about the 6×6, it is capable of crossing the toughest terrain imaginable without seemingly breaking a sweat.
[youtube]https://www.youtube.com/watch?v=IqiIUiyH2OQ&t=66[/youtube]
In case you didn't know, the car gets its origins form the C320 CDI developed specifically for the Australian army recently and measures an incredible 5867 mm long, 2111 mm wide and 2209 mm tall. What these figures mean is that the Mercedes-Benz G63 AMG 6×6 is an impressive 43.5 inches longer than the standard car.
Beyond the addition of two extra wheels and an additional axle has well as a completely new body incorporating flared arches, the G63 AMG 6×6 uses the same 5.5-litre twin-turbocharged V8 engine coupled with a seven-speed transmission like the more run-of-the-mill G63 AMG. As a result, it delivers an identical 536 hp and 560 lb-ft of torque. Drive is sent to all six wheels meaning the off-roader can reach 100 km/h in an impressive 6 seconds and a limited top speed of 160 km/h.
While over 100 examples of the G63 AMG 6×6 were sold and more could have been produced, the marque decided to stop sales in order to maintain the car's exclusivity.