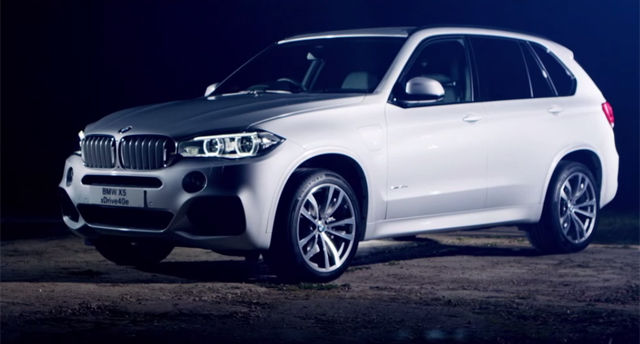 On the back of the 2015 BMW X5 xDrive40e recently launching, the first official video of the hybrid SUV has been released. While it is only short and doesn't feature any driving footage, it is nice to see the car on video rather than just through still images.
[youtube]https://www.youtube.com/watch?v=IWG1jhRCvvc[/youtube]
Powering the BMW X5 xDrive40e is a potent 2.0-litre turbocharged four-cylinder petrol engine delivering 245 hp and 258 lb-ft of torque. That engine is then combined with an electric motor producing a further 113 hp and 184 lb-ft. All up, that equates to 313 hp and 332 lb-ft meaning the hybrid BMW X5 xDrive40e can accelerate to 100 km/h in a mere 6.8 seconds as well as an electronically limited top speed of 210 km/h.
As with most hybrid vehicles, the X5 xDrive40e can run solely on electric power with a range of 31 km while also reaching a top speed of 120 km/h. On the combined cycle, the hybrid X5 consumes between 3.3 and 3.4-litres per 100 km while emitting between 77 and 78 g of CO2 per kilometre.
The battery for the X5 xDrive40e has been installed beneath the boot to ensure that the luxurious SUV retains large amounts of interior space. With that in mind, cargo capacity ranges between 500 to 1720 litres depending on whether or not the rear seats are folded away.