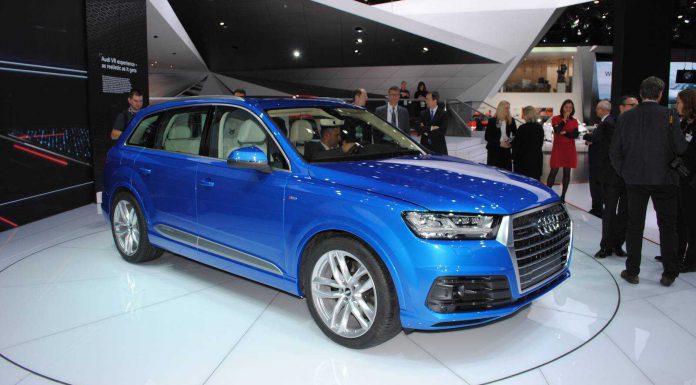 European pricing for the latest-generation 2015 Audi Q7 SUV has just been announced with the car starting at 60,900 euros.
The entry-level price is for the base Audi Q7 3.0 TDI model while the petrol powered 3.0 TFSI variant will start at 62,900 euros when sales kick off in the near future. As for the base 3.0 TDI model, it utilises a 3.0-litre turbo-diesel engine delivering a total of 272 hp and 442 lb-ft of torque. As a result of this power and torque, the car will hit 100 km/h in a respectable 6.3 seconds as well as a top speed of 234 km/h. This engine manages to sip just 5.7-litres per 100 km despite the car's size and its respectable straight-line performance.
As for the Audi Q7 3.0 TFSI, it makes use of a more powerful petrol-driven 3.0-litre pumping out 333 hp and 324 lb-ft of torque. Despite the reduce torqued, the additional horsepower helps send it to 100 km/h in 6.1 seconds and a top speed of 255 km/h. It consumes 7.7-litres of fuel on the combined cycle every 100 km.
Beyond these variants, the biggest headline for the new Audi Q7 is the substantial diet it has been subjected to. It's shed 325 kilograms (716.5 lb) over the previous generation. It features a new multi-material body and an all-new chassis which has helped keep weight down – 71 kilograms is lost from the body as the Q7 is shorter and narrower than its predecessor. The aforementioned 3.0 litre diesel version weighs just 1,995 kg.
[showhide]
New Audi Q7 under starter's orders
Premium SUV can be ordered across Europe starting March 16
Base price of 3.0 TDI is 60,900 euros
Sales of first generation Q7 topped 500,000 units
The countdown has started: today marks the beginning of advance sales for the new Audi Q7, which will be at European dealerships starting in June. The second generation of the prestigious SUV impresses with innovative technology and powerful and efficient engines that make it the CO2 champion of its class. The base price of the Q7 3.0 TDI (200 kW) is 60,900 euros. The 3.0 TFSI is available from 62,900 euros.
The Audi Q7 is one of the flagship models of the brand with the four rings. When the first generation Q7 was launched in 2006, this marked the beginning of the SUV success story at Audi. Since then, the company has sold over two million Q models – including over half a million Q7 vehicles.
The new Audi Q7 is shaped by a new Q?Design like the three-dimensional Singleframe grille and it is significantly more efficient, lighter and more spacious than the previous model. It now weighs up to 325 kg (716.5 lb) less, making it one of the lightest vehicles in its class. Its efficient engines consume up to 28 percent less fuel. The vehicle's features are rounded out by many new driver assistance systems and a comprehensive line-up of infotainment options, such as the Audi virtual cockpit.
Fuel consumption of the models named above:
Audi Q7:
Combined fuel consumption in l/100 km: 8.3 – 5.7 (28.3 – 41.3 US mpg);
Combined CO2 emissions in g/km: 193 – 149 (310.6 – 239.8 g/mi)
[/showhide]