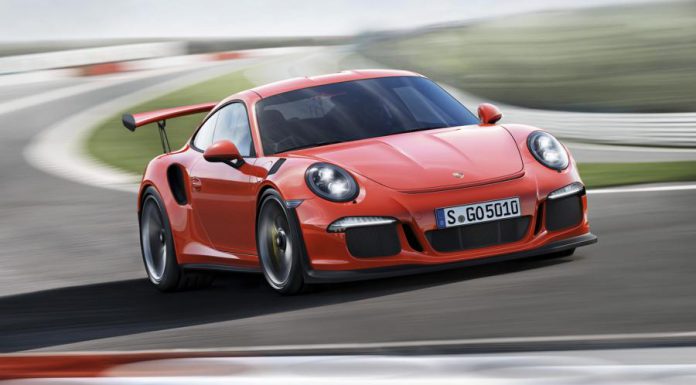 A new video of the latest-generation 2016 Porsche 911 GT3 RS on the track has been released and if you weren't already excited about the new rear-engined sports car, you should be after watching this brief clip!
[youtube]https://www.youtube.com/watch?v=i77DETH2N0I&t=24[/youtube]
In case you didn't know, the 2016 Porsche 911 GT3 RS uses a brand new 4.0-litre six-cylinder engine which remains naturally aspirated. It has been tuned to deliver 493 hp (the same as the 997 GT3 RS 4.0) but now delivers 384 lb-ft of torque which is 15 lb-ft more than the GT3 RS 4.0. Additionally, these figures represent a 25 hp and 60 lb-ft increase over the current 911 GT3.
As always, the new Porsche 911 GT3 RS features rear wheel drive and the aforementioned six-cylinder engine is coupled to a seven-speed dual-clutch PDK transmission. When combined with an advanced torque vectoring system and a variable locking differential, Porsche claims the new 911 GT3 RS will lap the famous Nurburgring Nordschleife in 7 minutes and 20 seconds. Alongside that 'Green Hell' time, the 2016 Porsche 911 GT3 RS will accelerate to 100 km/h in a mere 3.3 seconds and crack the 200 km/h mark in just 10.9 seconds. By comparison, the old 911 GT3 RS needed 3.9 seconds to hit 100 km/h.