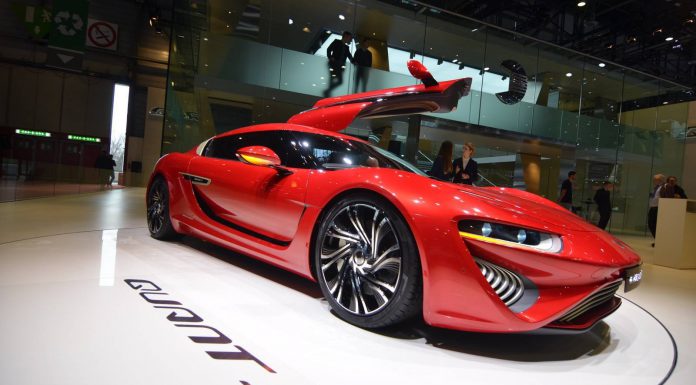 One highlight of the Geneva Motor Show 2015 in terms of sustainable motoring is the nanoFlowcell Quant F Electric Sportscar. The Quant is a car we first saw when the nanoFlowcell team were working in cooperation with Koenigsegg. Whilst Koenigsegg go their own direction across the other side of the hall, the nanoFlowcell team have continued development of their platform. We caught up with the Quant F Electric Sportscar on the show floor.
The Quant F Electric Sportscar is a four seater concept. The design is pretty stunning with two long gulwing doors creating a sleek look. The drivetrain is permanent all-wheel drive with power routed to four electric motors at each wheel. The front axle can be declutched allowing the Quant F to be converted automatically into rear-wheel drive. It also uses a 2-stage aerofoil at speeds above 80 km/h.
Whilst the design is interesting it is the technology that really impresses. Its called nanoFlowcell and has apparently been in development since 1991. Essentially, the nanoFlowcell is a chemical battery which uses liquid electrolytes.
Two 250 litre tanks hold positive and negative ionic fluid. The electrolytes circulate through two separate cells and a "cold burning" takes place. Oxidation and reduction processes then produce electrical power for the drive train.

In total, the Quant F Electric Sportscar produces a stunning 1,073 hp equivilent which makes it theoretically capable of a 300 km/h top speed. Range is 800 km and the car is easily refilled as if it were a petrol car with two tanks.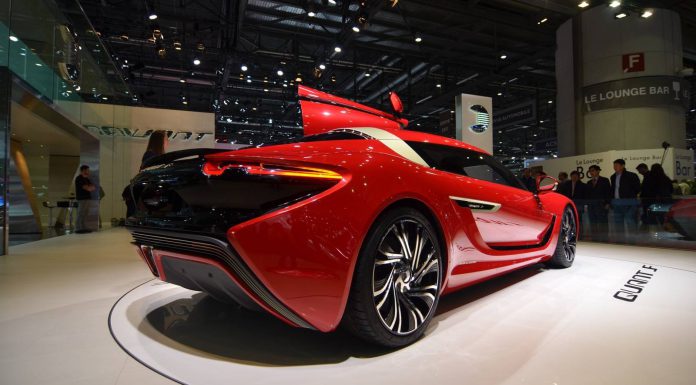 For more details on the Quant F Electric Sportscar, take a look at our earlier article. For all the latest from the Geneva Motor Show 2015, take a look at our dedicated news feed or follow us on Facebook, Twitter, Instagram or Google+.