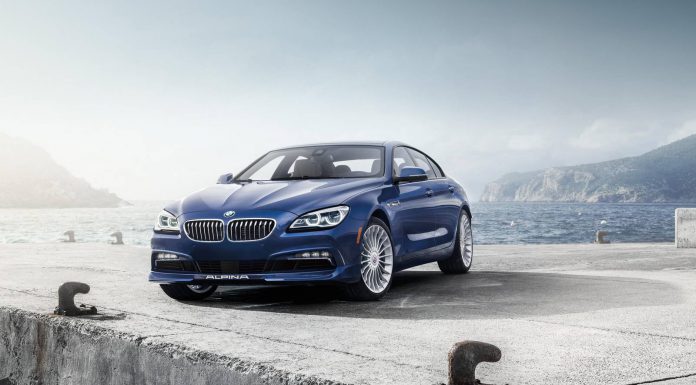 Fresh off its debut at the Geneva Motor Show 2015, the 2016 BMW Alpina B6 xDrive Gran Coupe will celebrate its North American premiere at the New York Auto Show 2015 starting next month.
At the show, BMW will also celebrate the 40th anniversary of BMW North America alongside the German firm's very first major motorsport victory in the U.S. at the 1975 12 hours of Sebring. Additionally, a 1970 BMW 2002ti Alpina will be displayed alongside a 1975 BMW 3.0 CSL, BMW Z4 GTLM racer car, BMW i8, i3 as well as the new X5 M and X6 M duo.
As for the BMW Alpina B6 xDrive Gran Coupe, its body is manufactured in the BMW 6-Series factory and hand-finished with Alpina components in Buchloe, Germany. With that in mind, the four-door Gran Coupe gets a new front spoiler and fascia with a subtly-revised BMW kidney grill. A new Alpina hood also adds to the unique style while NACA air channels at the front of the underbody suck cold air into the braking system.
The B6's 4.4 liter V8 Bi-Turbo V8 engine now delivers 600 horsepower at 6,000 rpm and maximum torque of 590 lb-ft at only 3,500 rpm. Increases of 60 hp over the 2015 model come thanks to a rework of the air intake ducting, air filter housing and fuel supply system. All this is delivered through an Alpina improved xDrive system for a 0 – 96 km/h acceleration time of just 3.6 seconds and a maximum speed of 320 km/h.
The performance is turned to the road through an Alpina Switch-Tronic 8-Speed automatic transmission provided by ZF. In 'D' mode the torque converter provides for smooth changes. 'S' mode makes changes faster and gives more direct feedback. There is a manual more which allows manual gear shifts via steering wheel buttons.