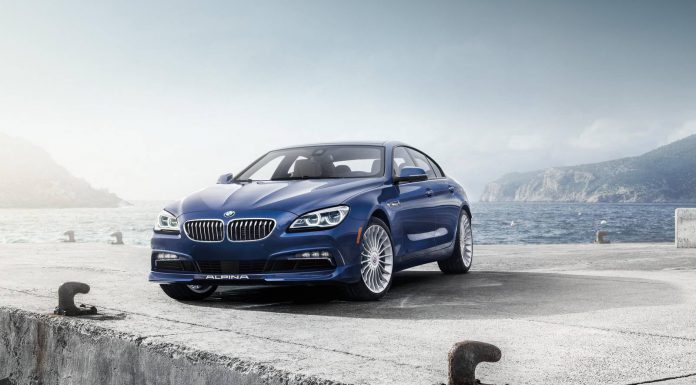 Alpina have released their 2016 BMW Alpina B6 xDrive Gran Coupe. It gains a set of body and performance enhancements. Alpina is a company with history. It first started producing BMW's back in 1965. Since 1983 it has been recognised as a manufacturer of its own right. The BMW Alpina B6 xDrive Gran Coupe should be an incredibly exciting vehicle!
The BMW Alpina B6 xDrive Gran Coupe body is manufactured in the BMW 6-Series factory and hand-finished with Alpina components in Buchloe, Germany. The four-door Gran Coupe gets a new front spoiler and fascia with a subtly-revised BMW kidney grill. A new Alpina hood gives the car a subtly new style. NACA air channels at the front of the underbody suck cold air into the braking system.
The B6's 4.4 liter V8 Bi-Turbo V8 engine now delivers 600 horsepower at 6,000 rpm and maximum torque of 590 lb-ft at only 3,500 rpm. Increases of 60 hp over the 2015 model thanks to a rework of the air intake ducting, air filter housing and fuel supply system. All this is delivered through an Alpina improved xDrive system for a 0 – 60 mph acceleration time of just 3.6 seconds and a maximum speed of 200 mph.
The performance is turned to the road through an Alpina Switch-Tronic 8-Speed automatic transmission provided by ZF. In 'D' mode the torque converter provides for smooth changes. 'S' mode makes changes faster and gives more direct feedback. There is a manual more which allows manual gear shifts via steering wheel buttons.
Alpina's sport suspension comes fitted. Alpina also fits a new brake system with discs measuring 374 x 36 mm at the front and 370 x 24 mm at the rear. Standard equipment includes Full LED Adaptive Headlights with High Beam Assistant. The exhaust system is full stainless steel with a valve that remains closed until 2,500 rpm.
Inside, the B6 xDrive Gran Coupe has gets only the highest-quality materials. Nappa leather and a leather instrument panel are standard. The BMW Navigation system with BMW ConnectedDrive services is also standard. Alpina fit a new blue instrument panel and Alpina steering wheel, production plaque and door sills.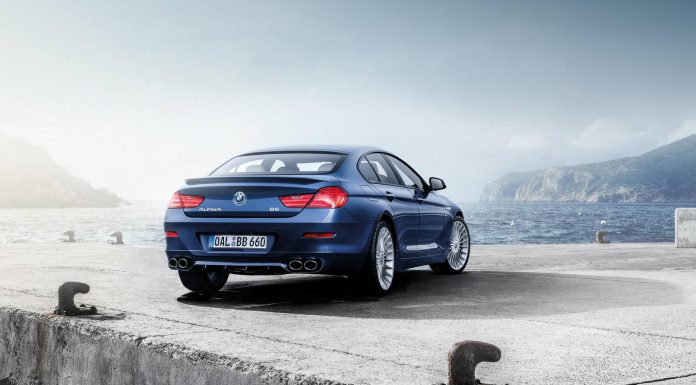 The BMW Alpina B6 xDrive Gran Coupe will be available to order starting in March 2015, with US deliveries at BMW Centers in June. Pricing will be announced closer to the on-sale date.