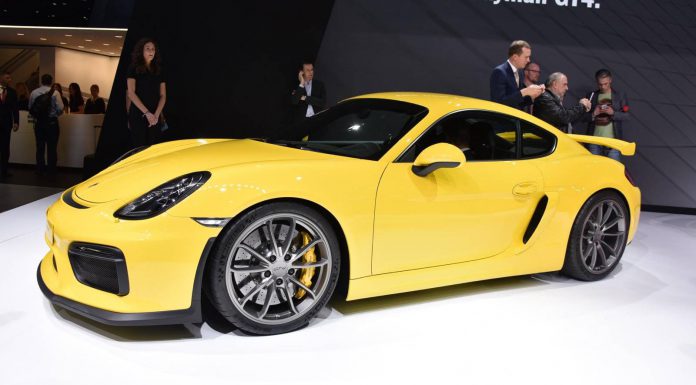 The Porsche stand at the Geneva Motor Show 2015 has a very exclusive feel about it this year. The highly anticipated Porsche Cayman GT4 makes its debut in Geneva alongside the Porsche 991 GT3 RS. Whilst the GT4 isn't quite as raw and race-ready as its older brother, it is widely anticipated to be one of Porsche's best models to date. We took a closer look.
The Porsche Cayman GT4 is a lighter, more powerful, more extreme version of the popular Porsche Cayman. The mid-mounted 3.8-litre flat-six now produces 385 horsepower. 0-100 km/h (60 mph) is possible in 4.4-seconds and a 295 km/h (183 mph) top speed is now possible. As with all Porsche products, the Cayman GT4 is also at home on the Nurburgring having recorded a blistering 7 minutes and 40 second time.
The Porsche Cayman GT4 gets a large fixed rear wing together with a reworked front facia and a new rear diffuser. With the new look and the increased performance, the Porsche Cayman GT4 becomes a very exciting proposition indeed! On paper it looks as though it does for the Cayman what the GT3 does for the Porsche 911.
Porsche are offering a variety of different options for the GT4 including PCCB ceramic brakes, carbon fibre reinforced shell seats and an all new and unique "Track Precision app" and Club Sport Package. The interior also gets a series of unique parts and components.

Take a look at our earlier Porsche Cayman GT4 article for all the details. For all the latest from the Geneva Motor Show 2015, take a look at our dedicated news feed or follow us on Facebook, Twitter, Instagram or Google+.