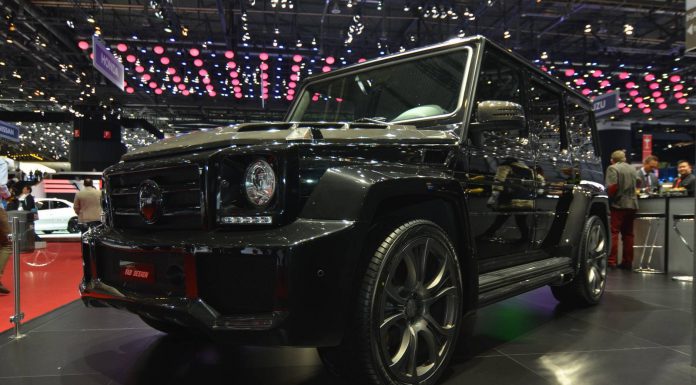 The FAB Design Shahin G-Class is on display at the Geneva Motor Show 2015. The G-Class is still remarkably popular among tuners at this year's Geneva Motor Show, even given its age. The Shahin is FAB Design's unique take on the rugged SUV. It adds a bunch of visual enhancements that make it even more stunning than before. We took a closer look at the show car!
The biggest element of the FAB Design package is the bodykit. Available in plastics or carbon fibre, the bodykit includes a new front bumper with a lower front diffuser and LED daylights. There are a set of front and rear fender extensions, a new rear bumper, a rear diffuser, aluminium FAB Design exhaust tips and new rear and foglight covers.
The carbon fibre bonnet, with its air vents, is an optional extra at a cost of 6,300 euros. An Evotrek mono bloc forged wheel design is offered in 11×23 inch. Spacers increase the wheelbase by 35mm and FAB Design also offer a new spare wheel cover.

For all the official details on the FAB Design Shahin G-Class, take a look at our earlier article. For all the latest from the Geneva Motor Show 2015, take a look at our dedicated news feed or follow us on Facebook, Twitter, Instagram or Google+.