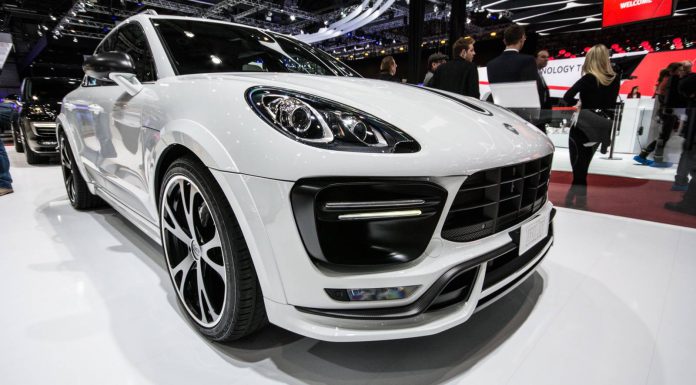 Techart have a Porsche Macan on display at the Geneva Motor Show 2015 showcasing the company's various aftermarket tuning products for Porsche's soft-roader! The Macan gets a range of exterior parts, interior refinements and tuning packages for most engine sizes. Take a look our live pictures below!
The Techart Porsche Macan program includes a bodykit. The Aero Kit I consists of a front spoiler lip, side skirts, a tailgate lip, a rear spoiler and a diffuser. The parts can either be ordered in plastic or in carbon fibre. Side mirror housings are also available to complement the parts!
Techart also offer wheel sets from their Formula range. The Techart Formula 1, Formula 2 and Formula 3 wheels are available in 21 or 22 inch sizes and in a variety of different finishes.

In terms of power, all models receive a new ECU module. The 3.0 litre Macan S gets a 50 hp increase up to 340 hp and 460 Nm. The 3.6 litre Macan Turbo gets a 50 hp increase up to 400 hp and 550 Nm. The 3.0 litre Macan S Diesel gets a 42 hp increase up to 258 hp and 580 Nm total.
Techart can also tailor interiors to individual taste with leather, alcantara, carbon fibre and wood. For more details of the Techart Porsche Macan, take a look at our earlier article. For all the latest from the Geneva Motor Show 2015, take a look at our dedicated news feed or follow us on Facebook, Twitter, Instagram or Google+.