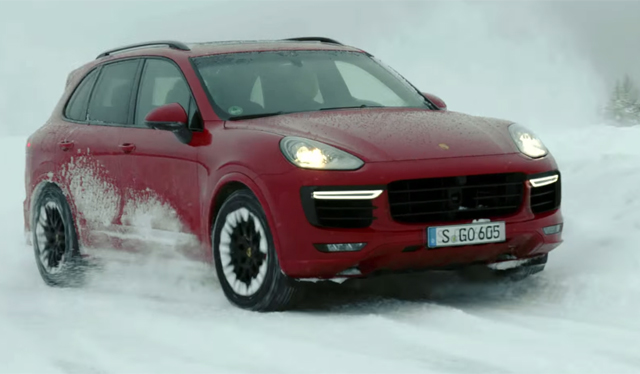 With two World Rally Championship titles under his belt alongside 14 individual rally wins, Walter Röhrl certainly knows what it takes to control a car. As a result, it is little surprise that after his rally career, he has gone on to make a name for himself as a test driver for Porsche.
[youtube]https://www.youtube.com/watch?v=4YfsrDF3hKY[/youtube]
Not too long ago, Röhrl headed onto the snow with both the brand new Porsche Cayenne GTS and Porsche Cayenne Turbo S and while there, he managed to put on an impressive show full of slides, drifts and burnouts. Incredibly, the Cayenne's featured were installed with standard road tyres yet still managed to remain controllable on the snow!
Powering the 2016 Porsche Cayenne Turbo S is a tweaked 4.8-litre twin-turbocharged V8 engine delivering 570 hp and 590 lb-ft of torque. Consequently, the new Cayenne Turbo S will sprint to 100 km/h in just 4.1 seconds compared to the 4.5 seconds of the previous model. The car's top speed now sits at 284 km/h.
By comparison, the 2015 Porsche Cayenne GTS utilises the same 3.6-litre twin-turbocharged V6 engine as the 2015 Cayenne S. Thanks to some tweaking however, power has been upped to 434 hp and 442 lb-ft of torque. That equates to 20 hp and 36 lb-ft more than the 2015 Cayenne S and most importantly, an additional 20 hp and 62 lb-ft over the V8 powered Cayenne GTS.