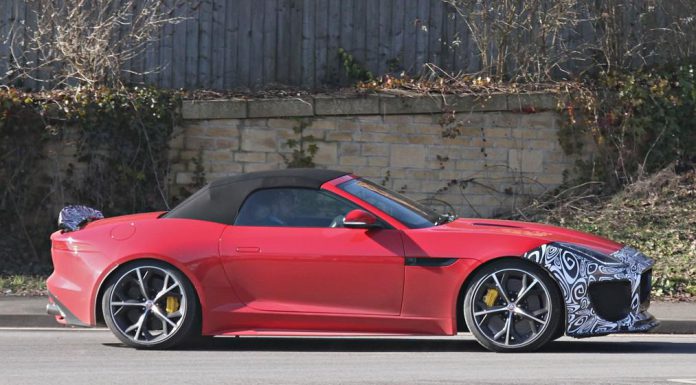 New Jaguar F-Type SVR spy shots have emerged as the British marque progresses on developing the most powerful F-Type variant produced thus far.
It is reported that the Jaguar F-Type SVR will be the first Jaguar model to wear the SVR badge in reference to Jaguar Land Rover's Special Vehicle Operations (SVO) performance division already responsible for the Range Rover Sport SVR.
From a mechanical standpoint, it is suggested that the Jaguar F-Type SVR will feature an uprated variant of the British firm's range-topping 5.0-litre supercharged V8 engine. In F-Type Coupe R specification, that powerplant pumps out 543 hp. For the F-Type SVR however, horsepower is pinned to sit around the 600 hp mark. As a result, the Jaguar F-Type SVR will become the automaker's most powerful model on sale.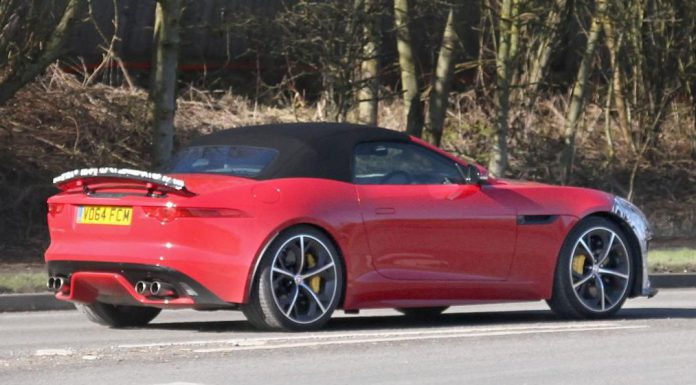 Mated to the upgraded engine will be a tweaked variant of the existing ZF eight-speed automatic transmission. That upgraded 'box will send power to all-four wheels via the all-wheel drive system unveiled for the F-Type late last year. Elsewhere, modifications to the suspension system are pencilled in to be featured.
Visually, the following Jaguar F-Type SVR prototype is a convertible but the car is likely to also be made available as a coupe. The SVR will be distinguishable from other F-Type variants with a bolder front bumper incorporating larger air intakes and a more pronounced splitter. Additionally, a modified rear spoiler will be installed.
[Via Auto Express]