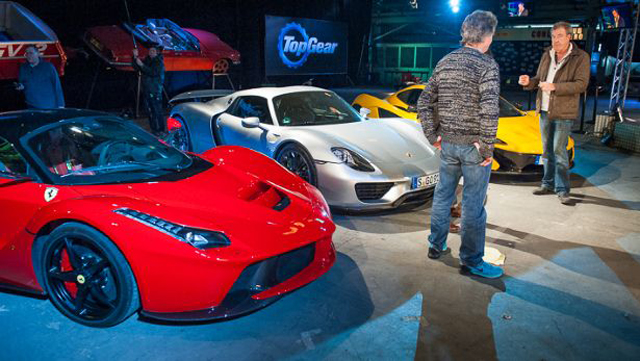 During Top Gear Season 22 Episode 5, the trio of Jeremy Clarkson, Richard Hammond and James May managed to gather the McLaren P1, Porsche 918 Spyder and Ferrari LaFerrari together in the studio. During the episode however, Clarkson revealed that McLaren and Ferrari weren't giving the go-ahead of a track-test comparison of the three while Porsche was happy for the 918 Spyder to be pitted against the other two.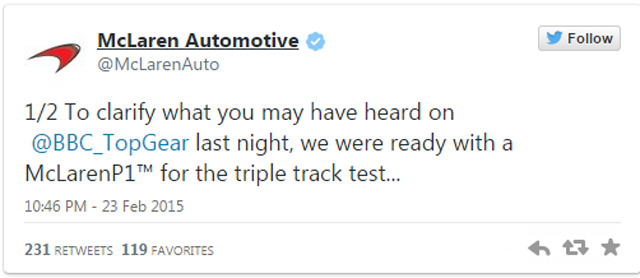 After the episode aired however, McLaren Automotive posted on its Twitter that it was in fact ready for a track test of the three hybrid hypercars and that it was instead Top Gear which stopped the comparison from going ahead. As a matter of fact, McLaren claims that filming was pencilled in to take place during the week but that the plug was pulled by Top Gear for yet unknown reasons.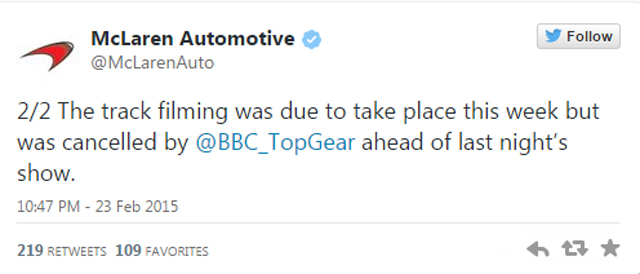 During the segment, Clarkson said that McLaren would only permit a comparison test between the P1, 918 Spyder and LaFerrari if all three were customer cars. By comparison, Ferrari was only reportedly going to give the go-ahead of the cars in question were from the factory and not from customers.
Whatever the story is, one thing is clear; it is far from over with Top Gear unlikely to let pass on arguably the most anticipated supercar test of recent years. After all, Top Gear magazine managed to gather the three hypercars together for an on-road test so it is certainly reasonable to assume that the world's most watched automotive show will be able to conduct a track test in the future.