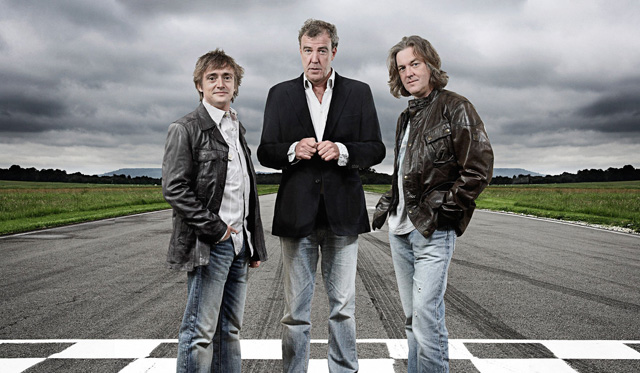 Top Gear Season 22 Episode 5 airs tonight, Sunday 22 February 2015 at 8 pm on BBC 2 and BBC 2 HD. Jeremy Clarkson, Richard Hammond and James May are back with another episode of our favourite TV series. Tonight's episode of Top Gear features a similar amount of automotive content as last week's episode!
Top Gear Season 22 Episode 5 features reviews of a number of cars, the first is the Porsche Cayman GTS which was unveiled last year. The second is the Chevrolet Corvette Stingray, both are conducted by Richard Hammond at the Top Gear test track. Which will be crowned the best?
The most interesting feature form our point of view will be James May's LaFerrari review. We have seen pictures of the LaFerrari, Porsche 918 Spyder and the McLaren P1 gathered together in the studio although Top Gear have told us not to expect a comparison tonight.
Top Gear Season 22
The start in a reasonably price car for Top Gear Season 22 Episode 5 is Olly Murs. For those that haven't heard of him, he is an English singer-songwriter, musician, and television presenter famed for coming runner-up during the sixth series of The X Factor in 2009.
The final piece sees Jeremy and James take a look at the weird and wonderful history of French manufacturer Peugeot. The film involves a traditional blend of artillery shells, corsets, and a trip to the desert. A recipe for a true Top Gear disaster story!
[youtube]http://youtu.be/hCmBFqrmkbM[/youtube]
Top Gear Season 22 Episode 5 is sure to be hilarious and we are grateful to see the return of the new car reviews. We have had a sneak peak at what to expect for the coming Season 22 episodes. We can confirm that next week Jeremy and James will be sent to British Columbia to rescue Richard. There will also be reviews of the Lexus RC F, Jaguar F-Type R Coupe and the Eagle Low Drag GT.
Be sure to tune into Top Gear Season 22 Episode 5 at 8 pm tonight on BBC 2 and BBC 2 HD for another not-to-be-missed episode! Take a look at the trailer embedded above for a 20 second sneak preview.