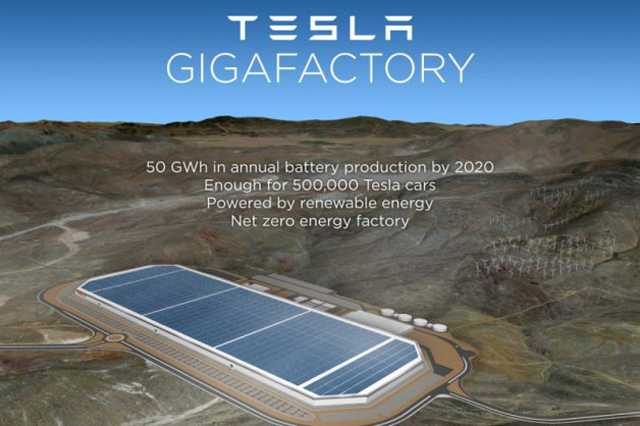 After being officially confirmed and announced last year, construction at the Tesla lithium-ion battery gigafactory is continuing. In just the first few months of construction, it has emerged that the Silicon Valley based automaker has spent more than $50 million on the gigafactory's construction.
As a matter of fact, a total of $53.1 million is said to have been spent by Tesla so far. That figure was achieved by analysing assessors claims as well as the permits filed from Tesla to the local Storey County.
By the first week of January, Tesla had spent $34 million alone with the initial construction phases of the gigafactory with the other money coming through the ground clearing, retention basins and pad creation. Of course, a sum of $53.1 million is very little in the scheme of things as the entire gigafactory will reportedly cost $5 billion to construct.
A significant portion of that total cost, upwards of $1 billion, could be provided by Panasonic who have teamed up with Tesla on the project. Panasonic will initially invest between $194 million and $291 million for the machinery needed for the battery cell production.
It is hoped that the gigafactory will be fully functional from 2018 onwards after ground was initially broken late last year. The gigafactory will double the world's supply of lithium-ion batteries.
The entry-level Tesla Model 3 will be the first Tesla model to use batteries produced in the gigafactory and is a key reason behind the facility being created. Elon Musk believes the cost of batteries will drop by at least 30 per cent for the Model 3 which will allow the car to cost around $35,000 while having a 200 mile range.
[Via Green Car Reports]