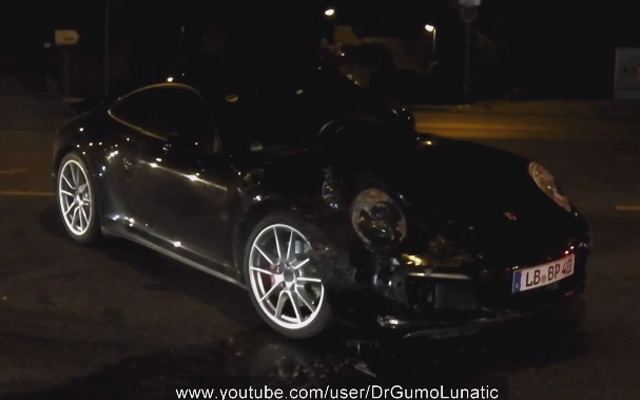 If the rumours are to be believed, the facelifted 2016 Porsche 911 range will be introduced at the IAA Frankfurt Motor Show 2015. Before that happens however, the German marque is continuing to develop the car and unfortunately, a barely disguised prototype was recently involved in a crash in the midst of testing.
It remains to be seen just what caused the crash but the damage is evident. One of the headlights has been completely smashed by the impact while the right side of the front bumper has also been trashed as well as the redesigned LED daytime running lights.
[youtube]https://www.youtube.com/watch?v=CTKT3EpZ9sE[/youtube]
As is typically the case with facelifted models, some small styling tweaks will be present on the 991.2 range. Such changes will include revised bumpers both front and rear, adjustable front air intakes as well as the aforementioned revised LED daytime running lights. Tweaks to the headlights and taillights are also expected.
Beyond the small visual and aerodynamic modifications for the facelifted Porsche 991, an entirely new range of turbocharged six-cylinder engines are expected to arrive. These new engines will reportedly replace the existing range of naturally aspirated engines leaving the 911 range with just a single all-motor powerplant exclusively for the 911 GT3.
Set to power the facelifted Porsche 911 Carrera will be a turbocharged unit displacing less than 3.0-litres. Despite being smaller than the existing 3.4-litre engine, this new turbocharged engine should deliver about 15 hp more bringing the total figure up to 365 hp. This engine will reportedly be fettled by Porsche's expert engineers for use in the Carrera S as well which should deliver about 415 hp compared to the current 400 hp.