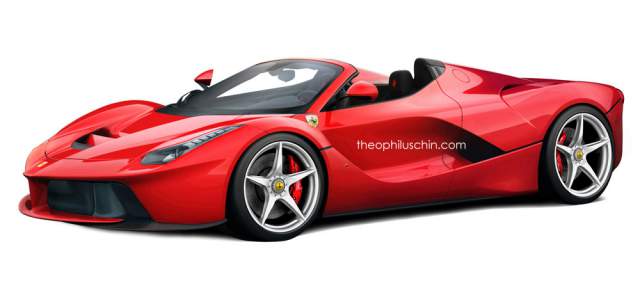 If some rumours are to be believed, the third variation of the potent LaFerrari will be unveiled this year in the form of a LaFerrari Spider. While it remains unclear whether or not the car will become a reality, Theophilus Chin has decided to render it anyway.
To create the following renderings, Chin hasn't simply removed the roof. He has also messed with the modified decklid of the LaFerrari Spider to create to prominent buttresses similar to the Ferrari 458 Spider. What do you think of the finished result?
According to reports, production of the Ferrari LaFerrari Spider could be limited to just 50 units compared to the 499 examples of the 'regular' LaFerrari coupe being produced as we speak. With that being said, some speculate that production could be limited to 10 or fewer units.
As for pricing, well the car could end up costing around twice as much as the coupe. As a result, the LaFerrari Spider would eclipse the price of the Bugatti Veyron Grand Sport Vitesse. Ferrari is understandably yet to comment on these suggestions and is unlikely to do so in the future. Nevertheless, if the LaFerrari Spider does come to fruition, then expect it to remain mechanically identical to the coupe.
As a result, the LaFerrari Spider should feature a 6.3 litre V12 which is connected to an electric motor similar to the system on the McLaren P1. The Ferrari F150 V12 has an output of 789 hp at 9000 rpm and 700 Nm at 7000 rpm while its electric motor has a maximum output of 161 hp and 270 Nm of torque. That delivers a total combined power output of 950 hp, allowing the car to do 0-100 km/h in less than 3 seconds, 0-300 km/h in 15 seconds and a top speed in excess of 350 km/h.
[Via Theophilus Chin]