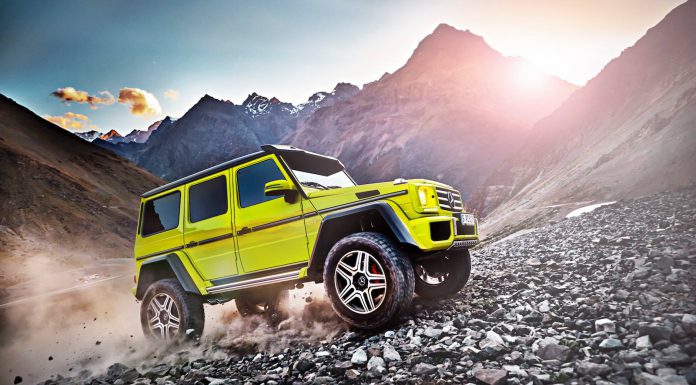 Mercedes-Benz has just released a teaser image of the potent Mercedes-Benz G500 4×4² show car set to debut at the Geneva Motor Show 2015 at the start of March.
As the name indicates, the Mercedes-Benz G500 4×4² follows on from the 6×6 unveiled back in 2013 and is a more hardcore, off-roading variant of the already rugged G63 AMG. With that in mind, the Mercedes-Benz G500 4×4² features similarly flared wheel arches to the 6×6 as well as a significantly higher ride height and a larger wheel and tyre package.
Engine wise, the Mercedes-Benz G500 4×4² is likely to receive the same 5.0-litre V8 engine as the existing G500 models rather than the 5.5-litre twin-turbo V8 of the G63 6×6. As a result, the engine is pinned to deliver around 288 hp and 336 lb-ft of torque. That power will be sent to all four wheel via a seven-speed automatic transmission.
The production-spec model is likely to be revealed soon after Geneva.