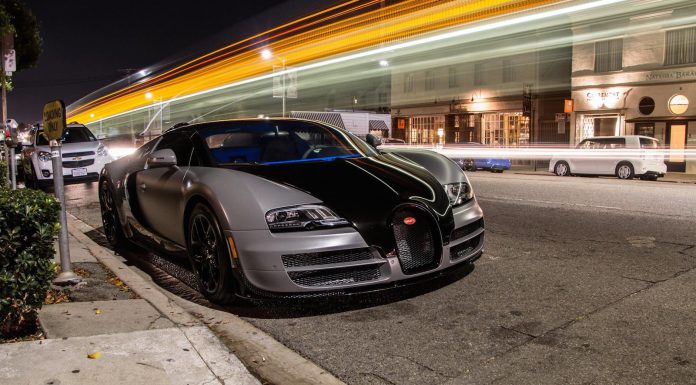 Inspired by the record breaking Bugatti Veyron Super Sport, the Veyron Grand Sport Vitesse is powered by a 8.0-liter W16 engine which puts out an impressive 1,200 horsepower (882kW) at 6,400 rpm. The peak torque of 1,500Nm is reached in between the 3,000 and 5,000 rpm. These figures culminate to make the Vitesse the fastest convertible/roadster in the world.
The car that features as todays Photo Of The Day features a spectacular and unique specification. The gloss black works fantastically against the matte grey panels. The electric blue interior splits opinion but we thinks to provides some brilliant contrast.
The car is regularly seen in the most wealthy parts of Los Angeles and was photographed by Tftoff Photography
For more on the Vitesse be sure to check out our experiences with the World Record Car!