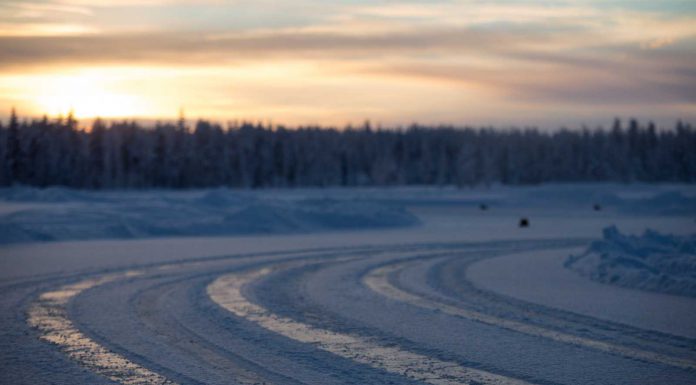 Every once in a while we experience something that is true bucket list stuff. Last weekend we joined Porsche in Lapland for a day on snow and ice and this earned a spot on the GTspirit Bucket List! Let me tell and show you what went down.
Every year major car manufacturers and private companies build camps in the European Arctic for winter testing and driving experiences. Porsche is no exception and for a few years now they travel to the Finnish town of Levi where they host the Porsche Winter Driving Experience.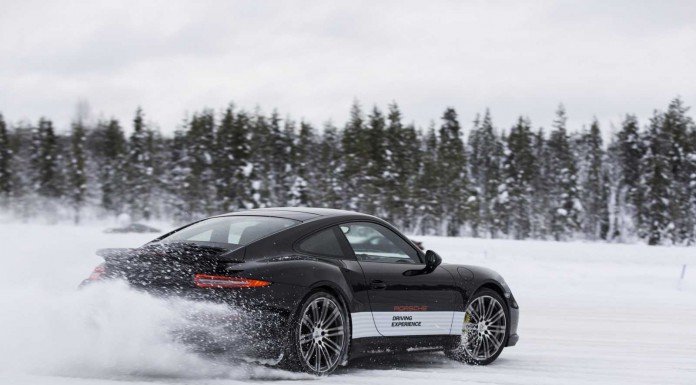 Levi is a popular Finnish winter destination and ski resort. The slopes not comparable to the Alps but enough for a few days of fun. From Kittila Airport it takes only 15 minutes to reach Levi and another 20 minutes to reach the Porsche Driving Experience camp. The last time we were in Levi was 8 years ago and the town has grown quite a bit. We stayed at the new Panorama hotel directly on the slopes of the ski resort with stunning views of the surrounding forests, mountains and lakes.
But enough about Levi, we are here to drift Porsches on ice! The Porsche Driving Experience is spread out over a huge area in the Finnish forests. Unlike many other ice driving events in the Arctic, Porsches tracks are not build on a frozen lake or river but on a sort of swamp land sprayed with water. This makes that the frozen race tracks over slight height differences and camber, something you won't have on a lake.
Upon arrival we realize how huge the area is, over 20 different ice tracks, drift circles and slalom courses are dotted around the area. Separated in a North and South area Porsche can accommodate up to 100 people per day. We arrive at a garage where 50 Porsche 911 Turbo S and Cayman GTS models are waiting for us.
Porsche offers four different multiple-day driving events in Levi. Starting with Camp4 which is all about precision; learning how the car behaves on snow and ice and how to stay in control while having fun. The next level is Camp4S which is more about performance. Assuming you know the basics about driving on snow and ice Camp4S shows how to handle the car on its limit. Both Camp4 and Camp4S participants drive with the Porsche 911 Carrera S with spikes.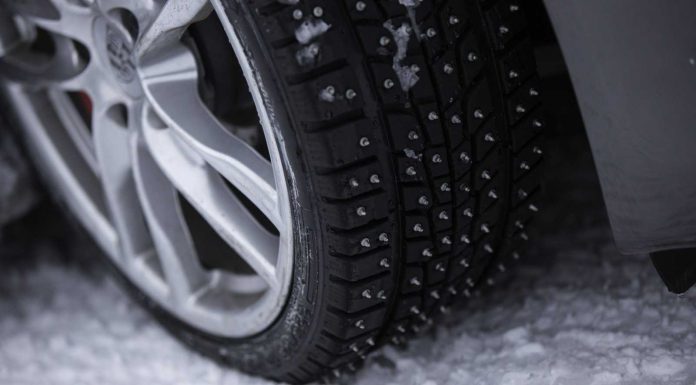 The next level is Porsche Ice-Force. Here participants learn to control a Porsche 911 Turbo by braking and accelerating. A combination of theory and driving on various handling tracks gives deeper insights in advanced vehicle control. Than finally there is Porsche Ice-ForceS where experienced drivers can raise their limits with the Porsche 911 Turbo, GT3 and other vehicles. In a mix of all-wheel drive and rear-wheel drive vehicles the driver is challenged to find the perfect line across the various handling tracks. All programs include three days of instruction and driving.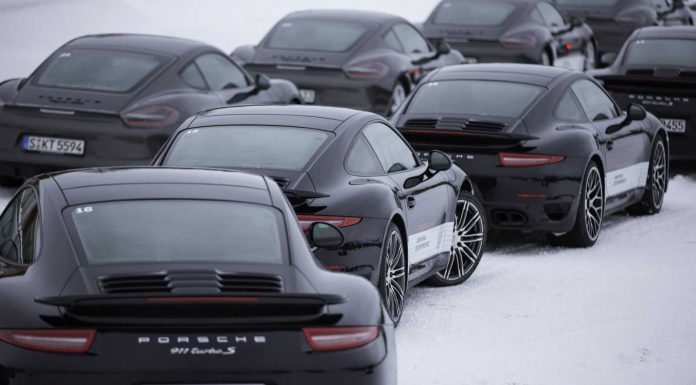 Today we take part in a special program based on Porsche Ice-Force(S). I receive the keys for a 560hp 911 Turbo S with 4mm spikes and snow tires. This all-wheel drive monster comes with Porsches PDK gearbox and Sport Chrono Package. We are guided to another part of the camp which will serve as base for our day there. After a small program and safety briefing the group is split in smaller groups and our instructor Yukka takes us to the first course.
Due to the weight balance of the AWD rear-engine Porsche 911 Turbo a different technique is required to drift it and the first exercise couldn't be a better start to learn this: slalom on ice. Accelerating off the line we are required to steer in for the first corner, tap the brakes briefly to shift the weight to the outside and accelerate to drift. Approaching the next corner, counter steer quickly and tap the brakes again to swing the back around to the other side. It soon feels like an automotive dance as we swing from side to side around the cones.
The cones were quite close to each other so our first exercise was fairly low speed but the second course would all change that. We are taken to a large circle to practice our drift consistency. The drift circle is a great place to see the all-wheel drive system in action. In comparison to a rear-wheel drive car it is a bit harder to drift but once you have it going you can reduce your steering inputs to the minimum and almost keep the wheels straight. Balancing the drift is entirely done by the throttle, more throttle makes the circle wider, less throttle makes the circle smaller. Being gentle on the throttle and steering is rewarded with a smooth never-ending drift.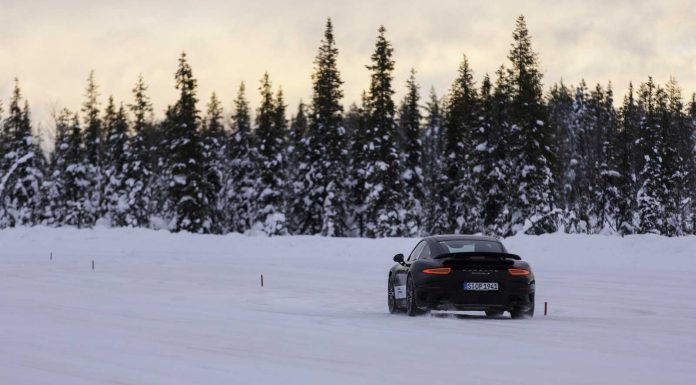 But enough with the exercise, time for the real action! We head back to the base and swap our 911 Turbo S for a rear-wheel drive Cayman GTS. To give the Cayman a bit more grip it has 5mm spikes instead of 4. We head out to a little track on the far end of the camp. Every track has a little paddock where you can stop and change drivers and every track also has a Cayenne on stand-by to pull any cars out of the snow besides the track.
The Porsche Cayman GTS is fundamentally different on snow and ice than the all-wheel drive 911 Turbo. It is much easier to get a drift going but it is harder work to stay in control. One little mistake and you soon find yourself with the nose pointing in the wrong direction. In my third lap I got a bit carried away and after drifting through three nice S-corner combinations I clearly over did it and found myself stuck in the snow wall for the first and luckily last time this day.
Adjacent to our Cayman GTS track was another track with a little surprise for us. This track called the GT3 Cup track had a Porsche GT3 Cup and Porsche 918 Spyder on spikes waiting for us. Seeing the 918 Spyder there on snow and ice was a surreal sight. With its low ride height and wing extended up it looked like it was ready to eat the ice.
[youtube]http://www.youtube.com/watch?v=AcnX84jS870[/youtube]
We had a few laps with both cars on the ice and although you will rarely top 100 km/h on the ice and don't have the same forces as on a regular race track, it was a sensational experience that we will remember for quite some time. The 918 Spyder interior is so futuristic and not reminiscent of anything else in the Porsche line-up, we hope some of its styling clues will soon make its way in other Porsche models.
We drove back to base with the 918 Spyder and took a short break for lunch. After lunch the 918 Spyder was available for a few photos and after that we had to return to our 'normal' program. The next chapter in our Porsche Finland story was the Porsche Cayenne Turbo. Warned about the car's weight and poor drift capabilities, we weren't sure what to expect. But as soon as we left the paddock and turned in to drift around the first corner we knew this is going to be fun!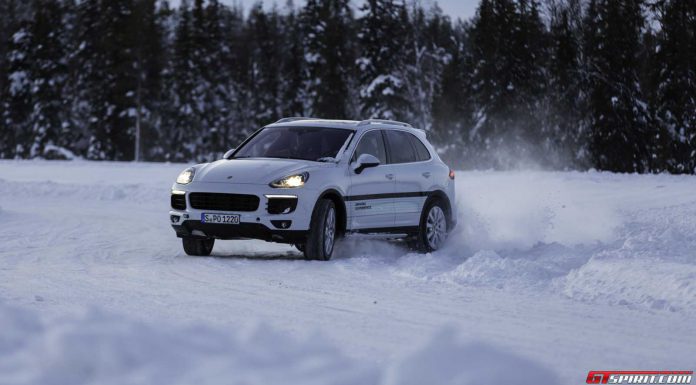 The Cayenne is by far the hardest Porsche we have been trying to drift in Finland. You really have to trick it into a drift. Before setting out on the icy tracks we always switched to Sport Plus mode and disabled ESP. In the Cayman and the Turbo we switched back to the soft suspension setting to make the car a bit more forgiving. In the Cayenne however we chose to keep the suspension in sport to reduce body roll.
With the Cayman and the 911 Turbo I tried to drift as clean as possible as going off the cleared track did not only bring a high risk of getting stuck but also of damaging the car. In the Cayenne however it was not a problem to let the back wheel slide through the snow bank a little bit on the outside corner and keeping my foot on the power meant the Cayenne would get out of most tricky situations just fine. Lap after lap I drifted the Cayenne from corner to corner with a big smile on my face. My co-driver at one point had the window open to let some fresh air in, he regretted it a while later when one of my drifts saw a load of snow fly in through the open window and end right in his face.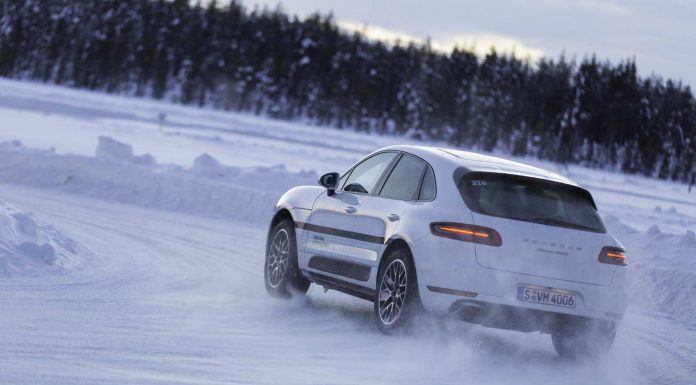 For our last sessions of the day we returned to the majestic Turbo S. With plenty of practice behind us our last track was a combination of two smaller tracks with wide long sweeping corners ideal for long drifts. Coming from the Cayenne, the Turbo was easy to drift. On this track cones helped initiate the perfect Scandinavian flick around three tighter corners. Along with two dedicated instructors it was just one of the examples where the Porsche Driving Experience is not just about fun but also helps improve your driving skill.
As we drove back to the garage in a convoy of Porsche 911 Turbos, the Finnish sky glowing in the light of dawn it hit me; words fail to describe it but this is something every car enthusiast should have on his bucket list!
---
The Porsche Winter Driving Experiences take place from January til March in Levi, Finland. This year all courses are fully booked but keep an eye on their official website for next year.