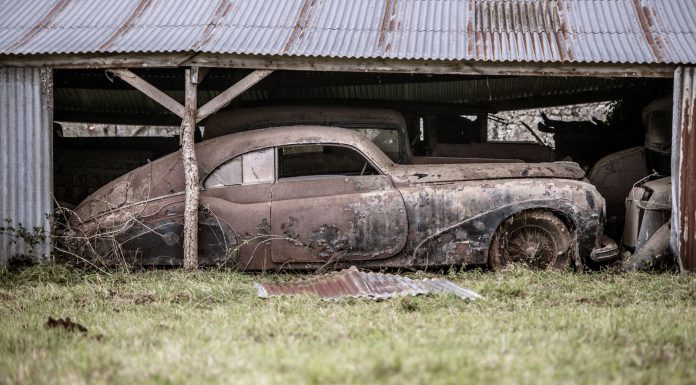 French auction house Artcurial realised a staggering €25.15 million for the Baillon Barn Find last week. The auction took part during the legendary Retromobile Paris event. Even before the event, at least one important model, a 1936 Panhard-Levassor Dynamic X76 coupé junior, had been withdrawn following an early sale to the Musée de l'automobile de Compiègne.
The Baillon collection consisted of 59 lots. Among the highlight sales was a Ferrari 250 GT SWB California Spider which sold to an international buyer for a staggering €16.3 million. An American buyer purchased the second most expensive lot, a Maserati A6G 2000 Gran Sport Berlinetta Frua, for €2 million.
Our personal favourite, a heavily rusted Talbot-Lago T26 Grand Sport SWB by Saoutchik, will stay in Europe after exceeding its upper estimate by over €1 million for a hammer price of €1.7 million. Another Talbot-Lago T26 Record Cabriolet by Saoutchik managed a staggering €745,000.
It wasn't just the unrestored Baillon collection that Artcurial had to offer however. They sold a 1968 Bizzarrini 5300 GT Strada for €1.2 million, double its pre-auction estimate. A 2011 Ferrari 599 GTO which sold for €441,000 is believed to have set an auction record.
The Baillon collection is one of the finest barn finds in recent memory. The cars were originally owned by Roger Baillon, owner of French transportation company Transports Baillon. Baillon amassed a collection of cars with the intention of forming a museum. Before his dream could be realised, his business took a turn for the worse and Baillon was forced to sell his collection.
At least that was the story until recently. It seems that Baillon retained some 60 cars from his collection in barns and garages at several locations in western France. Many of the cars were built by historic French coach builders, saved from the scrapyard in the 1960's and 70's. It isn't clear how these cars were forgetten, however, Arcurial came to know about their existence and have convinced the family to offer the cars for sale.