French auctioneers Artcurial have revealed an incredible barn find of 60 high-value classic cars. The forgotten Baillon Collection will be auctioned at the annual Retromobile event in Paris next February. The lots include some of the most desirable Ferrari's and Bugatti models and is sure to provide a talking point for the classic car market for years to come.
This particular barn find is billed as one of the greatest, an probably the last, to have been seen in recent years. The cars were originally owned by Roger Baillon, owner of French transportation company Transports Baillon. Baillon amassed a collection of cars with the intention of forming a museum. Before his dream could be realised, his business took a turn for the worse and Baillon was forced to sell his collection.
[youtube]http://youtu.be/zz-cDGnZNlY[/youtube]
At least that was the story until recently. It seems that Baillon retained some 60 cars from his collection in barns and garages at several locations in western France. Many of the cars were built by historic French coach builders, saved from the scrapyard in the 1960's and 70's. It isn't clear how these cars were forgetten, however, Arcurial came to know about their existence and have convinced the family to offer the cars for sale.
The collection includes a rare Bugatti Type 57 Ventoux, a Delahaye Coupé Chauffeur, a series 1 Facel Vega Excellence, a Hispano Suiza H6B cabriolet Millon-Guiet, a Maserati A6G 2000 Gran Sport Frua, a Panhard-Levassor Dynamic coupé X76, a Talbot Lago T26 cabriolet Saoutchik ex-Roi Farouk and a Talbot Lago T26 Grand Sport coupé Saoutchik among others.
The headline lot is a Ferrari 250 GT SWB California Spider, one of just 37 examples with enclosed headlights. The car was originally owned by Gérard Blain, then sold to fellow actor Alain Delon before making its way into Baillon's garage. It was discovered hidden under piles of old Vie de L'Auto magazines. It is valued at between 9.5 and 12 million Euros!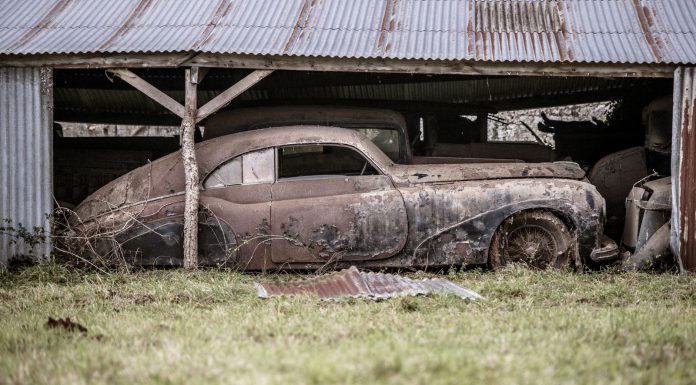 Articurial are busy piecing together the history of the individual car which make up this fantastic collection. See the full list of cars below! The auction will take place on 6 February 2015.
Amilcar C6 Berline;
Amilcar CGS;
Ariès Coach;
Auto Union cabriolet;
Avions Voisin C15;
Avions Voisin limousine C15;
Avions Voisin C7 par Gallé;
Ballot 8 cyl limousine;
Barré torpédo;
Berliet coupé chauffeur;
Berliet Type VIGB 10HP Taxi Landaulet;
Bugatti 57 Ventoux;
Citroën Trèfle;
Delage D6;
Delage D8 coach;
Delahaye 135 cabriolet Faget Varnet;
Delahaye 135 coach Chapron;
Delahaye 235 coach Chapron;
Delahaye 235 coach Chapron;
Delahaye 235 coupé Chapron;
Delahaye Type 43 coupé chauffeur;
Delahaye GFA 148 L;
Delahaye Type 43 camionnette;
Delaunay Belleville limousine VL8;
Facel Vega Excellence;
Ferrari 250 GT SWB California Spider;
Ferrari 308 GTS i;
Ferrari 400′ Ferrari Mondial 3.2L cabriolet;
Hispano Suiza H6B cabriolet Millon-Guiet;
Hotchkiss cabriolet;
Innocenti S cabriolet;
Jaguar type S 3.4 L;
La Buire 12 A;
Lagonda LG45 cabriolet;
Lancia Thema 8.32;
Lorraine Dietrich B3/6 plateau;
Lorraine Dietrich B3/6 torpédo par Grumman;
Lorraine-Dietrich torpédo;
Maserati A6G 2000 Gran Sport Frua;
Mathis cabriolet;
Mathis FOH;
Packard cabriolet Super Eight;
Panhard-Levassor Dynamic berline X77;
Panhard-Levassor Dynamic coupé X76;
Panhard-Levassor limousine X72;
Porsche 356 SC ex-Sonauto;
Renault AX torpédo;
Renault Vivastella cabriolet;
Sandford cyclecar 3 roues;
Singer Cabriolet;
Talbot Lago 11/6 cabriolet;
Talbot Lago Baby cabriolet;
Talbot Lago Baby cabriolet;
Talbot Lago Cadette 11;
Talbot Lago coach;
Talbot Lago T26 coach;
Talbot Lago T26 Grand Sport coupé Saoutchik;
Talbot Lago T26 Record coupé Saoutchik;
Talbot Lago T26 cabriolet Saoutchik ex-Roi Farouk