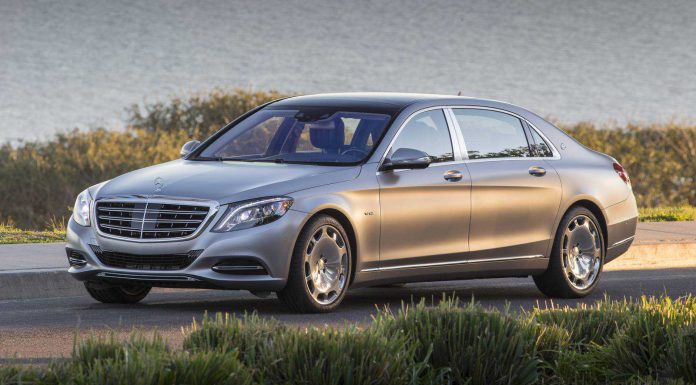 On the back of Daimler releasing its impressive sales and financial results for 2014, Mercedes-Benz has come out on top for January sales in the United States amongst its German rivals.
In the first month of the year, Mercedes-Benz managed to sell 24,619 vehicles which is an 8.9 per cent jump over the 22,604 units sold in January last year. When combined with the 1505 vehicles sold by Mercedes-Benz Vans and the 492 Smart cars sold, Mercedes-Benz USA achieved its best ever January selling a total of 26,616 vehicles.
The best-selling Mercedes-Benz model last month was the W205-generation C-Class selling a total of 6236 units up by 8.5 per cent from the 5748 examples which found new homes in January 2014. Next up was the E-Class with 4336 cars sold followed by the M-Class which sold 3144 cars and the flagship S-Class which saw a 22.2 per cent bump in sales to 1566 units.
Compared to Mercedes-Benz, Volkswagen was the next best of the German automakers in terms of U.S. sales for January 2015. VW sold 23,504 units with the Jetta proving the most popular with 8320 examples delivered. BMW saw a 4 per cent jump in American sales across January to 18,981 cars with the 3-Series and 4-Series unsurprisingly the most popular.
Next up was Audi which recorded 11,541 vehicle sales which is a strong 14.3 per cent increase over last year and the German firm's 49th consecutive month of record U.S. sales.
[showhide]
Mercedes:
Mercedes-Benz today reported a record January sales volume of 24,619, increasing 8.9% from the 22,604 units sold in January 2014. Adding 1,505 units for Sprinter Vans and 492 units at smart, MBUSA achieved its highest January to date with a grand total of 26,616 vehicles, up 9% from a year ago.
Mercedes-Benz volume leaders in January included the C-, E- and M-Class model lines. The new C-Class took the lead at 6,236, up 8.5% from the 5,748 units sold the same month last year. The E-Class followed with sales of 4,336, while the brand's best-selling sport utility, the M-Class, rounded out the top three with an increase of 11.3% to 3,144. At the high end, sales of the flagship S-Class increased 22.2% from January 2014 to 1,566.
Mercedes-Benz AMG high-performance models sold 790 units in January, while the brand's BlueTEC diesel lineup finished the month at 942.
Separately, Mercedes-Benz Certified Pre-Owned (MBCPO) models recorded their best January ever with sales of 9,456, up 13.9% from the 8,305 units sold the same month last year.
VW
January sales total 23,504 units, representing a .04 percent increase over January 2014
The all-new Golf delivered 2,040 units for the month, marking a 143% percent increase in sales for the model over the previous January
The Golf GTI delivered 1,978 units, a 129% percent increase
Jetta sedan delivered 8,320 units for the month
BMW:
Sales of BMW brand vehicles increased 4.0 percent in January for a total of 18,981 compared to 18,253 vehicles sold in January, 2014
In January, notable vehicles sales included the BMW 3 and 4 series which increased 13.2 percent to 7,348 vehicles, the BMW 7 series increased 10.8 percent to 637 vehicles and the BMW X5 increased 16.7 percent to 3,214 vehicles.
Audi:
Audi reported that its January 2015 sales increased 14.3% to 11,541 vehicles, a total that stands as the 49th consecutive month of record U.S. sales for the premium brand.
January represented strong demand for Audi luxury SUVs, with a 15.8% increase in sales encompassing the Audi Q3, Q5 and Q7 models.
Consumer demand for the A3 model line (including the A3 sedan, the A3 Cabriolet and the S3 performance sedan) bolstered January results with 2,383 vehicles sold, making it the second-best selling model for Audi in the U.S.
Jaguar Land Rover:
Jaguar Land Rover U.S. January sales increase 9 percent for best January since 2004
Land Rover up 13 percent to set new U.S. January sales record
Three Land Rover models: Range Rover Evoque, Range Rover Sport and Range Rover each have best ever U.S. January sales
Jaguar F-TYPE delivers 70 percent increase with coupe and convertible lineup.
Jaguar Land Rover North America today reported January 2015 U.S. sales: Land Rover sales reached 5,281 units up 13 percent from 4,674 units in January 2014; Jaguar sales were 1,266 units, down 6 percent from 1,347 units in January 2014. Jaguar Land Rover North America January U.S. sales for both brands hit 6,547 units, a 9 percent increase from 6,021 units in January 2014.
Porsche:
Porsche Cars North America, Inc. (PCNA), importer and distributor in the United States of Porsche 918 Spyder, 911, Boxster and Cayman sports cars, Macan and Cayenne SUVs, and the Panamera four-door sports sedan line-up, today announced January 2015 sales of 3,937 vehicles. PCNA kicked off the year successfully with record January sales, up 27.2 percent over January 2014 (3,096).
The 911 model line's strong demand in January put its sales up 32.8 percent over last January. In January, the Cayenne had 1,116 deliveries, and the sporty Macan recorded sales of 796 with demand still outpacing availability. The Panamera sports sedan had 437 deliveries. The mid-engine Boxster and Cayman models had a combined 502 deliveries.
Porsche Approved Certified Pre-Owned vehicle sales in the U.S. were 1,023 for January 2015, an increase of 26.6 percent from the same period last year.
Volvo:
Volvo Cars' 19th consecutive month of growth
Global sales of 30,854 cars, up 1.6 per cent versus January last year
Sales in the United States were up by 0.1 per cent to 3,795 cars in January. The best-selling models were the Volvo XC60 and S60.
[/showide]