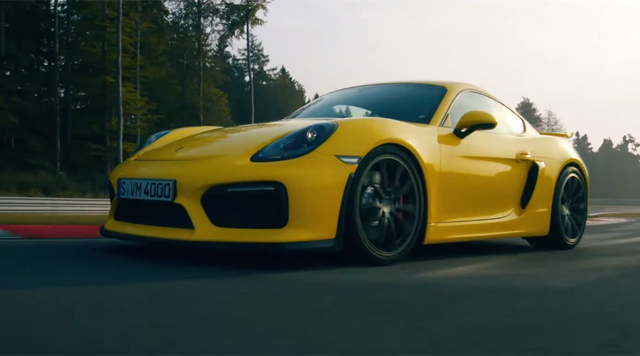 On the back of the official launch of the 2015 Porsche Cayman GT4, the first promo video of the brand new German sports car has been released.
[youtube]https://www.youtube.com/watch?v=2GmLnDmBW10#t=56[/youtube]
As the name suggests, the Cayman GT4 is a hardened, lighter and faster Cayman that shares many components with the superb 991 911 GT3.
The entire car has been refocused with a plethora of improved and enhanced parts that promise to make the GT4 the most sporty Cayman to date. These include improvements to engine, chassis, brakes and aerodynamic components. Porsche insist that the Cayman GT4 still maintains its everyday usability that has been distinct characteristic of every Cayman generation. The Cayman GT4 is powered by a 3.8-litre flat-six that produces 385 horsepower, a power unit that has been derived from the 991 911 Carrera S. Of course as with all other Cayman models the GT4's engine will be mid-mounted.
Interestingly, and in contrast to the 911 GT3, the Cayman GT4 is only available with a manual transmission. The performance figures of the Cayman GT4 are nothing short of exceptional. 0-100 km/h (60 mph) is dispatched in a brisk 4.4-seconds and it will continue to accelerate to a top speed of 295 km/h (183 mph).