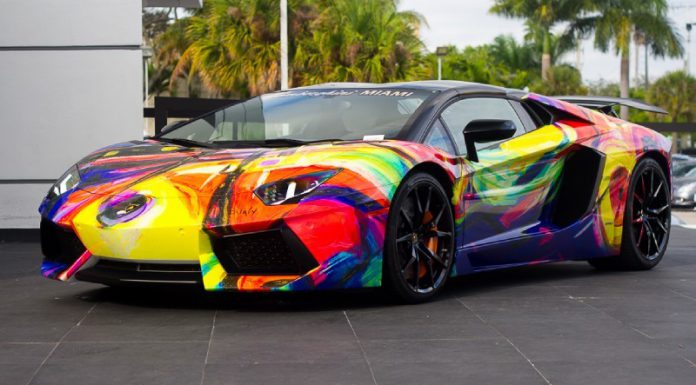 Last year, Lamborghini Miami teamed up with French musician and painter Duaiv to create a unique Lamborghini Aventador Roadster with a brightly coloured wrap. Well now the special show car is up for sale courtesy of Prestige Imports/Lamborghini Miami and whoever buys the Italian supercar, they'll inevitably stand out from the pack!
The special wrap includes elements of yellow, pink, red, blue, purple and numerous shades of green in a very eye-catching design which perfectly reflects some of the previous work of Duaiv. Alongside the wrap, this Lamborghini Aventador Roadster includes a Novitec Torado rear wing and decklid while an eye-catching white interior is also featured.
The car has a mere 2479 miles on the clock and it goes without saying that it is unlike any other Aventador in the world. Other final design elements not previously mentioned are the gloss black wheels and bright orange brake calipers.