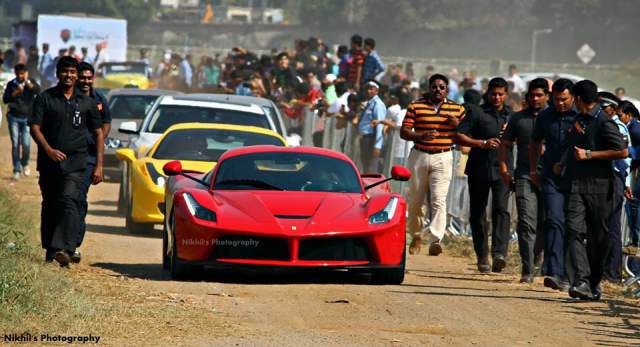 The LaFerrari is the latest and (arguably) the greatest Italian hypercard ever to leave the Maranello factory gates. Only 499 will ever be made and it seems as though they are headed to every corner of the globe. With a population of over 1.2 billion, it was only a matter of time before we saw an Indian example!
Photos have surfaced showing a LaFerrari navigating its way along dust roads in Mumbai. The car attended the Parx Super Car Show 2015, a show that celebrated its 7th anniversary this year.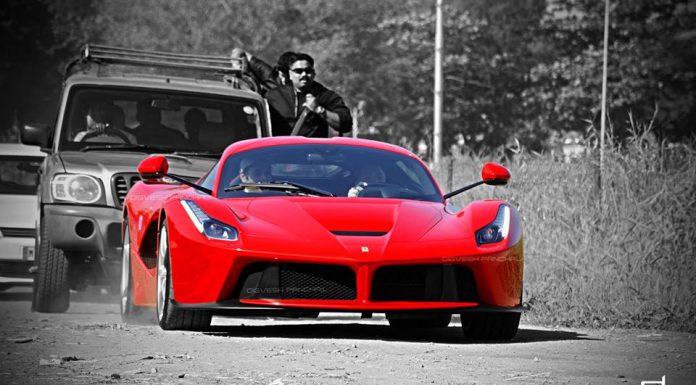 The car is owned by Gautam Hari Singhania, Chairman & Managing Director of Raymond Group. Raymond Group is one of the countries largest branded fabric and fashion retailers. We believe that the LaFerrari was on display to publicise Singhania's Super Car Club; the first of its kind in India.
Import tax on luxury and high end goods is extremely high in India. Some owners report having to pay as much as 160 percent more than the original ticket price for certain high end models. We are told that Singhania has registered it through an ATA Carnet which allows for temporary import for display or exhibition.
ATA Carnet's are traditionally only available for a period of 12 months so it remains uncertain whether this particular LaFerrari will stay within the country for the foreseeable future. Still, if you are living in or around Mumbai, We would watch the calender for the next Super Car Club event!
[via Supercar Scenes India,
Automobile Technoholics, Digvesh's Photography and Nikhil's Photography]