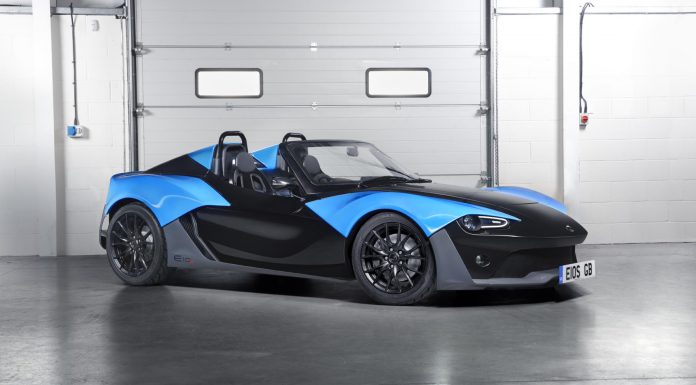 The production ready 2015 Zenos E10 S has just been unveiled at the Autosport International 2015 event in the U.K. Official details about the potent sports car were revealed last September but the production-spec model brings with it a number of updates.
Most importantly, Zenos has revealed the windscreen for the E10 S which is also available without a windscreen to provide even more extreme and back-to-basics driving. From a powertrain perspective, the 2015 Zenos E10 S is powered by a mid-mounted 2.0-litre Ford GDTI EcoBoost engine delivering a total of 250 hp. This represents a 53 hp gain over the standard Zenos E10 and its naturally-aspirated 2.0-litre engine.
Thanks to the extra power, the Zenos E10 S can reach 100 km/h in under 4.5 seconds and a top speed of around 217 km/h. For owners looking for even more power and fun, the optional track pack has been created. It sees the inclusion of a six-speed manual transmission, limited-slip differential, new lightweight composite racing seats, a quick release steering wheel, four-point racing harness and different wheels along with adjustable dampers.
Underpinning the Zenos E10 S is the same platform as the regular E10. This architecture combines aluminium and carbon fibre and can support the E10 S being either left hand drive or right hand drive.
[showhide]
"Zenos to unveil production ready E10 S at AIS 08 January 2015 stand #6765
E10 S is a road legal track car with 250 bhp and 400 Nm of torque
Announcement just one year after stablemate E10 was unveiled at same event
All vehicles feature unique application of modern lightweight materials including aluminium extrusions and recycled carbon fibre with thermoplastic core – delivering low cost, world class mechanical efficiency
Modern contemporary and dynamic design
Outstanding ride and handling performance on the road and on the track
Unrivalled value in terms of price and ownership costs, starting at just £24,999
Wymondham, Norfolk, UK. 08 January 2015 – Zenos Cars are thrilled to announce a production version of the E10 S is to be revealed at the Autosport International Show 08-11 January 2015. The unveiling took place today at 11.15am at stand #6765.
The E10 S, a road legal, lightweight sports car, boasts 250 bhp of power and 400 Nm of torque courtesy of its standard Ford GDTI Ecoboost engine. This production ready E10 S will also debut the eagerly awaited heated windscreen that complements the E10's dynamic and contemporary design.
This is not the first time Zenos has used the Autosport International to make an announcement. Last year at the same event, Zenos first show cased its pioneering model, the E10, to overwhelmingly positive response. The E10 sets new standards thanks to its application of modern lightweight materials including aluminium extrusions and recycled carbon fibre, its modern design, its outstanding ride and handling performance on the road and on the track, and its unrivalled value in terms of price and ownership costs.
This year, visitors to the stand will not only see the E10 S for the first time, shown in Soarin' Blue, but also, as part of the display, the other six premium colours which the Company now offers. The car's dynamic and contemporary design lends itself to achieving the 'wow' factor in any colour.
In keeping with the Company's open and inclusive manner, members of the E10's design team will be on hand over the four days to share their ideas and opinions on the Zenos design philosophy, they will be expressing their design flare on the stand for customers to see, and be involved with the process of designing a lightweight sportscar. The activity will also be screened live on the stand.
The introduction of the E10 S to sit alongside its E10 stablemate ensures there is something for everyone, for the road and track. E10 prices start from £24,995 (inc VAT) and E10 S start from £29,995 (inc VAT).
ENDS
About Zenos – Experience the Thrill of Belonging
Zenos is a British sports car company launched in September 2013, specialising in the design and manufacture of high performance, ultra-lightweight, yet affordable, razor sharp handling sports cars. The brand is focused on intelligent vehicle engineering, efficient material technology, 'form from function' design and the adoption of a direct Customer intimate sales and marketing approach.
Co-founded by Ansar Ali and Mark Edwards, previously CEO and COO respectively of Caterham Cars with 30 years of collective experience in the automotive industry, Zenos was created to react to trends in the automotive industry which they believe increasingly ignore the demands of the true driving enthusiast, and therefore appeal to those who are seeking thrilling and engaging lightweight sports car experiences. As such, a network of world class technical partners was assembled to develop a range of products with outstanding performance and handling, yet with affordability in mind.
In January 2014 the Zenos E10 was unveiled at Autosport International, the first of three models to be introduced by the company over the next 5 years."[/showhide]