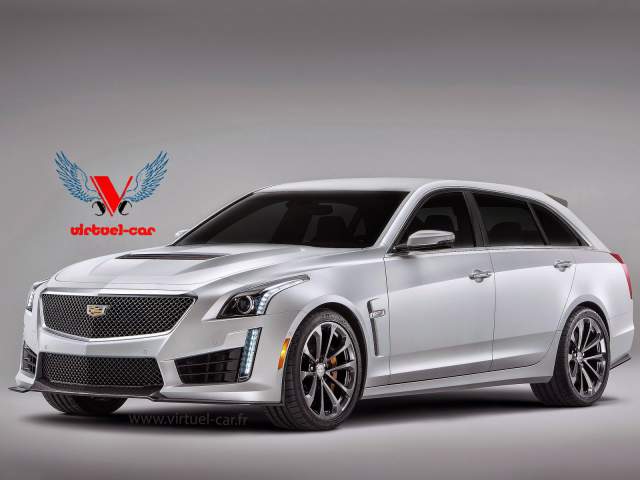 While Cadillac has yet to announce if additional, non-sedan body styles of the 2016 CTS-V will be introduced, it seems likely that they will. After all, the second-gen Cadillac CTS-V was also available as a coupe and a wagon and rivals like the Audi RS6 and E63 AMG can also be ordered in wagon form.
With this in mind, Virtuel Car has decided to render the latest Cadillac CTS-V as a wagon and it certainly looks as menacing and brutish as the 2016 CTS-V sedan.
Beneath the skin, the 2016 Cadillac CTS-V uses the same 6.2-litre supercharged V8 engine as the latest-generation Chevrolet Corvette Z06. Whereas the Z05 delivers 650 hp, the new Cadillac CTS-V pumps out 640 hp and 630 lb-ft of torque. By comparison, the outgoing CTS-V pumps out 556 hp. This engine is then mated to a paddle-shift eight-speed automatic transmission driving the rear wheels. With the launch control function enabled, the 2016 Cadillac CTS-V rockets to 96 km/h (60 mph) in just 3.7 seconds as well as a top speed of 320 km/h (200 mph).
Cadillac claims that the 8L90 transmission used delivers performance to rival the very best, dual-clutch transmissions alongside the smoothness and refinement of a conventional automatic complete with a torque converter.
[Via Virtuel Car]