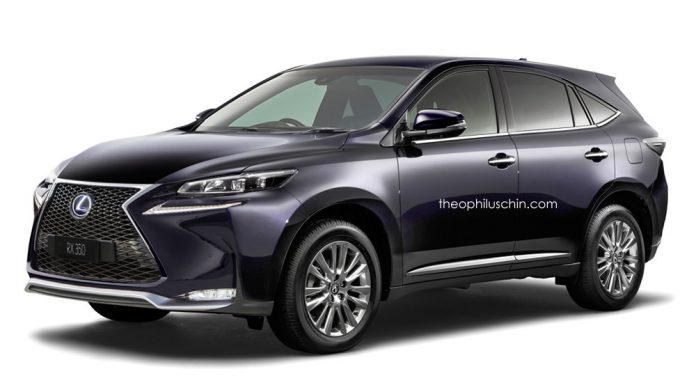 Just yesterday it emerged that the next-generation Lexus RX could debut at the upcoming Detroit Motor Show 2015. Before the show kicks off on January 12th, Theophilus Chin has decided to render how the new RX could look.
To create this updated Lexus RX, Chin has taken a number of key design elements featured on current Lexus vehicles and put them onto the RX's large body. For example, the car depicted features Lexus's unique new headlight design which includes the main body of the headlights and an additional tick-shaped strip of LED daytime running lights.
Elsewhere, the Japanese firm's staple spindle grille has been fitted alongside a number of sharp lines like those from the entry-level Lexus NX crossover.
Further details about the car remain scarce but it is apparently part of an ongoing push from North American Lexus dealerships to begin offering the RX with a third row of seats. The push for such a model has been so strong that the Japanese firm has reportedly canned development of an RC F Convertible in favour of a new Lexus RX.
Alongside the inclusion of a third set of seats, the revised RX will reportedly be larger than the outgoing car to distance itself from the compact NX crossover. Elsewhere, a new eight-speed transmission could debut in the updated RX to replace the outgoing six-speed auto 'box.
[Via Theophilus Chin]