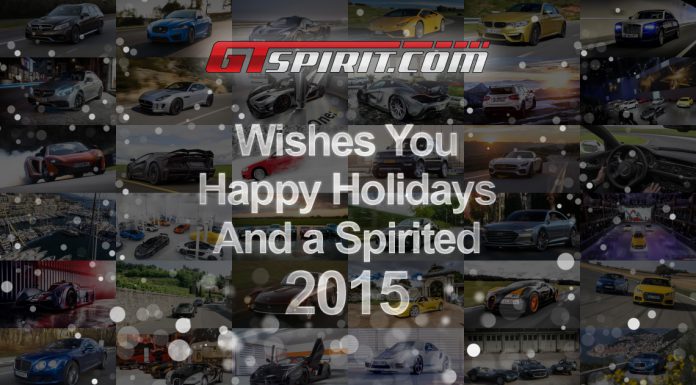 Part 2 of our Christmas Special takes you back to June of this year when 11 of our team members gathered in Stuttgart for the start of the Mercedes-Benz powered GTspirit Tour 2014. It was an action-packed couple of days during which we saw a large part of the Alps and Northern Italy. Today we will tell you what happened behind the scenes.
Before the start of the GTspirit Tour we carefully planned a route through Germany, Switzerland, Italy and Austria. In Stuttgart ever car received a route book, walky-talkie and set of reflective vests (safety first you know). From here we set off to the Unimog Museum in Gaggenau. Unimogs are among the most capable vehicles on four wheels around and we had a blast at the Museum's own off road test track.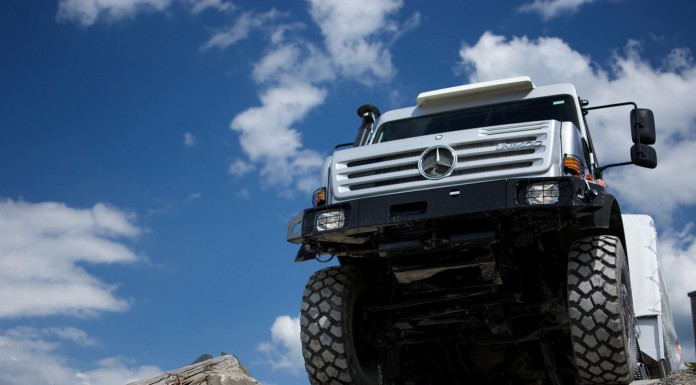 On the first day we stopped overnight in Chur, Switzerland. The teams split up and arrived quite late at night. Since the hotel restaurant was already closed we had no choice but to go to the McDonalds next door. All was well apart from Zaid, who ordered was must have been the most expensive fish burger in the world, that was ready by the time everybody else had long finished their burgers.
The next day started with the most beautiful, quiet drive from Chur to Davos. We stopped at a supermarket in Lenzerheide where a local Swiss woman almost started a fight over the fact that one of our German guys didn't weigh his bananas – yes, in Switzerland there are still supermarkets where you have to weigh your own bananas, please keep that in mind when you go there the next time. After our friendly interaction with the locals we continued past Davos to one of my favorite passes in the world; the Fluelapass.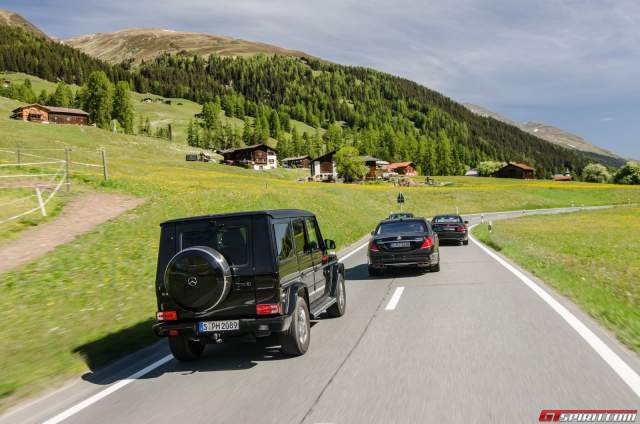 For most of the guys this was a huge playground with mountain scenery and photography opportunities every hundred meters. Apart for Jasper who just drove past all of us pretending he didn't see us and went straight to Zernez and sat down at the terrace with a coffee. So long with sticking together!
After a while we all met up again in Zernez and continued to the next pass, the Ofen pass. The Swiss road 28 from Zernez to the Italian border runs through a national park and is very well maintained. Our next official stop was at the famous church tower that rises from the Reschensee.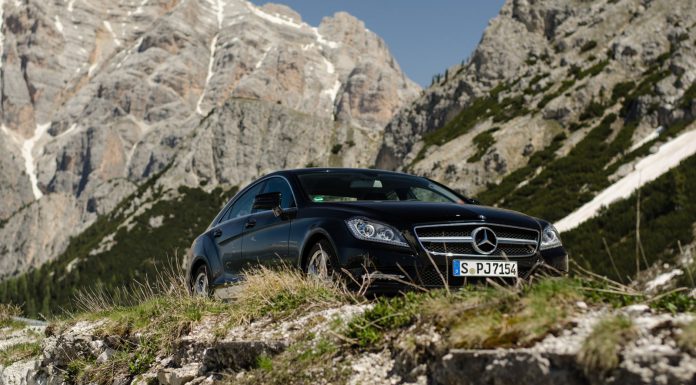 There it was also time for lunch in the summer sun and the first to arrive went ahead and ordered a Schnitzel, soon everybody arrived and the Schnitzels were served one after the other. Only exception, Zaid, ordered a Spaghetti without meat. Of course his dish came with meat. We sent it back and by the time everybody was finished he got his Spaghetti again. But instead of no meat, they brought it the second time with extra meat…
After lunch we checked out the Reschensee church tower and headed for the Stelvio. In June the Stelvio pass, one of the highest in Europe, is usually open for traffic but this year there was an unusual amount of snow still in June. About four corners from the top a recent avalanche blocked part of the road. Luckily all cars made it through. In the GTspirit Team we have a set of Dutch twin brothers, Thom and Jesper and if you ever seen them ask them how the tuna made it to the top of the Stelvio.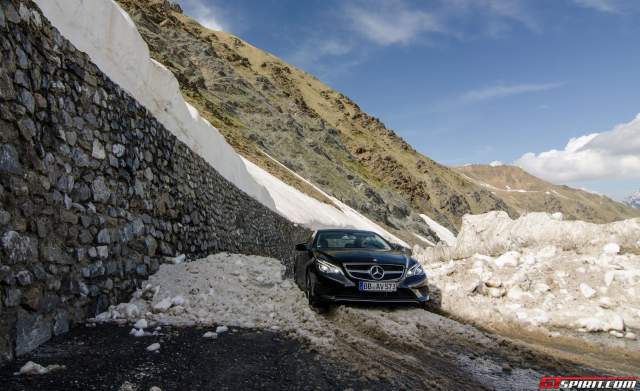 That evening we had dinner in a small medieval village and stayed in Brescia overnight. The next morning we had a coffee and a croissant for breakfast in a small cafe near the hotel. Zaid didn't fancy a coffee so he ordered a hot chocolate. And you probably guessed it, something went wrong. Instead of the usual hot coffee beverage he got a cup with boiling hot Nutella…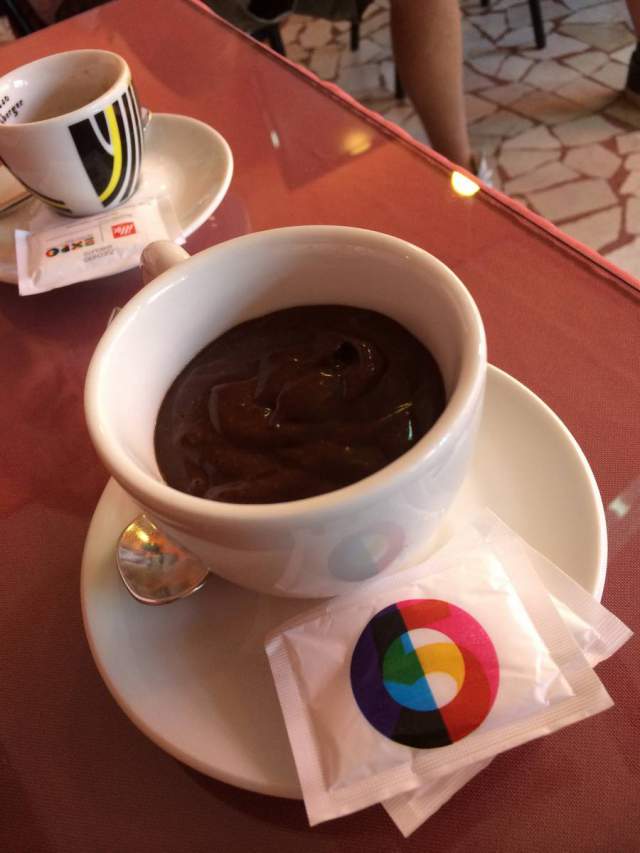 From that moment on Zaid outsourced all the food and beverage orders to other members of the team and the rest of the journey went much better than the first part. What also went better was our route planning, the first two days the route schedule was way to ambitious so we had to skip various scenic routes and drive motorway instead.
On the third day we planned a little surprise with Luca from Pagani, who met us with a Pagani Huayra for lunch. After spending an entire afternoon eating and shooting around Verona we thanked Luca and went on our way. Minutes after our goodbye we realized one of our GoPro cameras was still in the Pagani so Luca had to turn around and bring it to us. Than we headed on the highway and Luca called again – this time his bag was still in our car.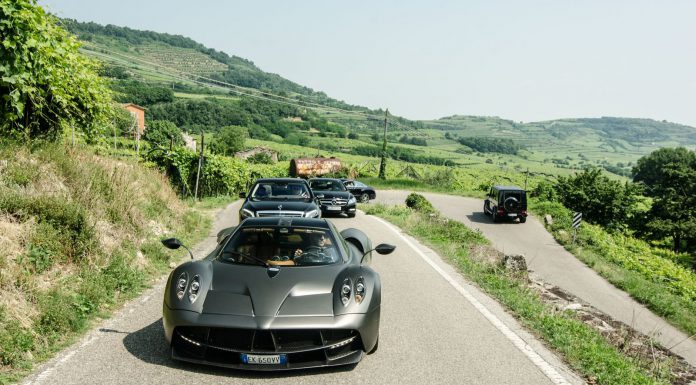 We took the next exit and made what could have been an illegal u-turn. We drove back the way we came and arrived at the exact same toll station where we left. We inserted our ticket and the machine immediately swallowed the ticket. Oops! After a long discussion with some on the toll station phone, an employee arrived to straighten us out. We had to pay a 60 euro fine as its illegal to leave the Italian toll motorways at the same station where you entered.
With the bag back in Luca's hands and the toll ticket accepted we were back on our way. We were driving in the G500 and had a good distance behind the other guys. I knew a small shortcut so bet with Willem that we could catch up with them. For two hours it was quiet on the walky-talkie but then we heard a noise. We knew they were close. As we approached the last toll station before the city of Belluno we saw the others. The view on their faces was priceless!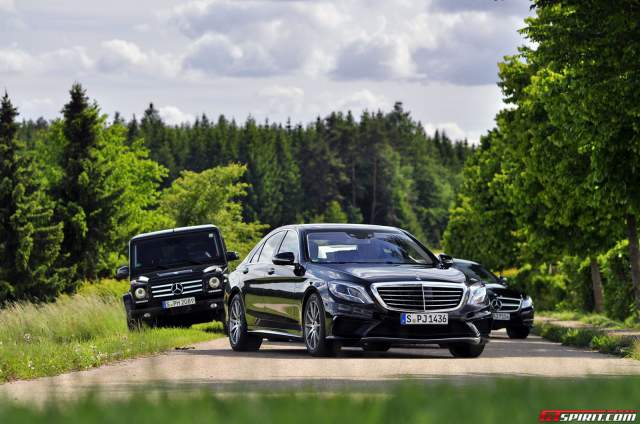 In Belluno we had a well deserved beer and pizza before a good night sleep. The next day we cut the program short again and drove to Cortina d'Ampezzo. Here our daily ritual of refueling the cars became interesting as most petrol stations only had 95 and no 98 octane needed for the S63 AMG. After several stops we finally found a petrol station that did supply us with the goods.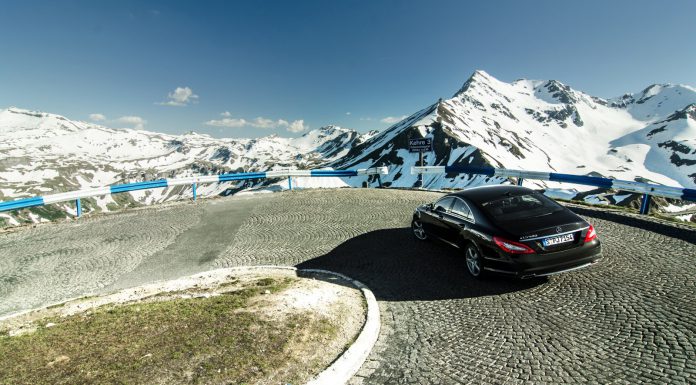 We ticked several beautiful passes on our wish list including the Falzarego Pass and the Grossglockner pass. As sun set we arrived at the magnificent Grand Tyrolia hotel in Kitzbuhel. We rushed to the Spa with just enough time for a swim before dinner. For dinner we drove up to Rosi's, a Kitzbuheler institution and famous restaurant high in the mountains. On the parking lot you will regularly find exotics and valuable classic cars. This night was no exception with a rare 300 SL Gullwing parked out front.
Rosi prepared a big barbeque outside with an incredible selection of meat. We opted for the mixed grill that included a huge dry-aged rib-steak on the bone. They also made some small schnitzels and chicken for us so we could taste the real Austrian kitchen. It was a day and night to remember!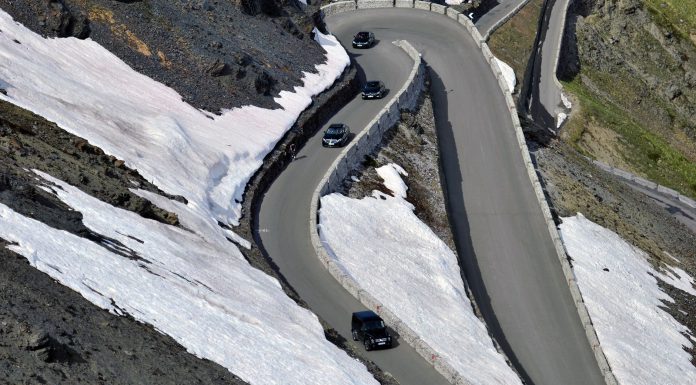 The last day we made a small stop in Munich to meet two of our Munich team members, Philipp and Simon, before returning to Stuttgart. In Stuttgart temperatures had gone up to over 35 degrees and with tropical heat all team members headed back to the airport and home. My black car had been cooking in the summer sun for four days and the temperature read 50 degrees+ when I got behind the wheel, a most unpleasant end of a great week!
Overall we covered more than 2,000 kilometers, took thousands of photos and share incredible memories! The only speeding ticket came in my name, in my own car, on the way to Stuttgart…
Also read our Christmas Special Part 1 and check back for part 3!