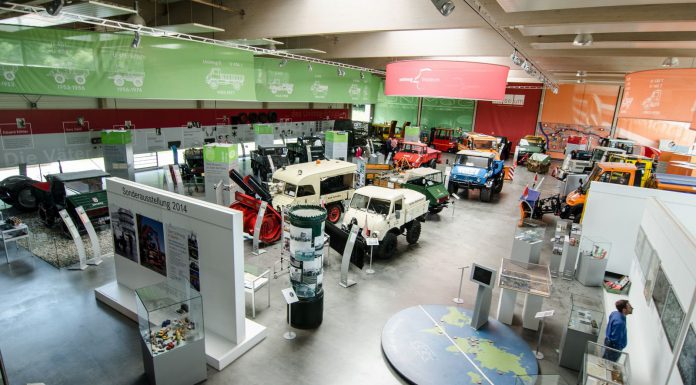 Straight after we began our GTspirit Tour 2014 with Mercedes-Benz, we headed around 100 kilometers over to Gaggenau to visit the Unimog Museum. Although Unimog is neither a sports nor a luxury car, it was very interesting for us to experience the joy of discovering the world of all-terrain vehicles.
Unimog means 'Universal-Motor-Gerät' (universal-engine-machine) and is a multi-purpose all-wheel drive car. Originally created by Albert Friedrich after the second world war had ended, the competition in the tractor segment was huge, so Friedrich had to offer something special to achieve success. He did.
The wheel size of Unimogs are generally the same at the front and rear with all wheel drive featuring. Thanks to this configuration, the utility vehicle can achieve faster speeds on regular roads than traditional, slow tractors. It also has a differential on both axles.
Due to the success and high count of orders at the Unimog presentation on the agriculture DLG exhibition in Frankfurt 1948, Boehringer started series production one year later. The first Unimog was a 45 hp 4-cylinder diesel with a top speed of 50 km/h. By 1950, 600 Unimogs were built and Mercedes-Benz was now interested in buying the company and in summer 1951, Mercedes-Benz released their first Unimog model – the Unimog Type 2010 built in Gaggenau.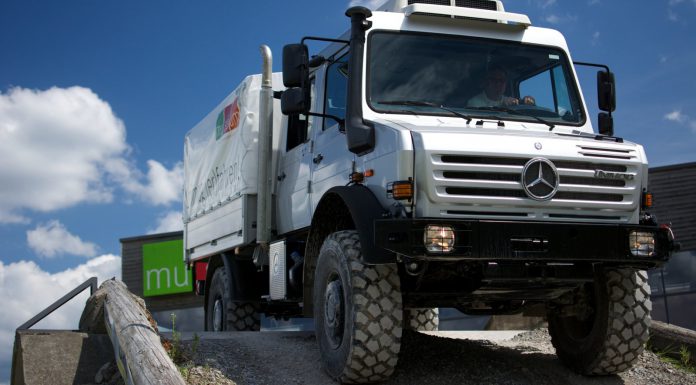 During the following fifteen years, Mercedes built and sold over 100,000 units making it a very successful investment. In 2002, after 50 years, Mercedes-Benz decided to close the Unimog factory in Gaggenau and now builds it in Wörth alongside other Mercedes-Benz models to reduce production costs.
Because of the close connection between Gaggenau and Unimog, a public charity was found. The aim was to make a Unimog museum and keep the history connected to Gaggenau. In 2006, the Unimog Museum was finished and opened for the public. The Unimog Museum has a main theme for their exhibition which changes every year. This year the theme is Berlin, so there are only Unimogs displayed that were in action in the German capital.
Behind the Unimog Museum is a large course for the cars to show their capabilities in the all-terrain and of course the GTspirit team couldn't miss a passenger ride around the track! We had a lot fun climbing walls of 45 degrees and driving down at the same angle and experiencing the wide capabilities of this car. Our G500 wouldn't have survived the tricky course, so we only tried the easier parts with it.
For all those in the area of Gaggenau, take a visit at the museum and especially a passenger tour. You won't regret it! The team at the museum are very knowledgeable about Unimogs and will give you a great experience as we enjoyed our short stay there.
These brilliant images were taken by GTspirit photographers Zaid Hamid and Willem de Zeeuw.