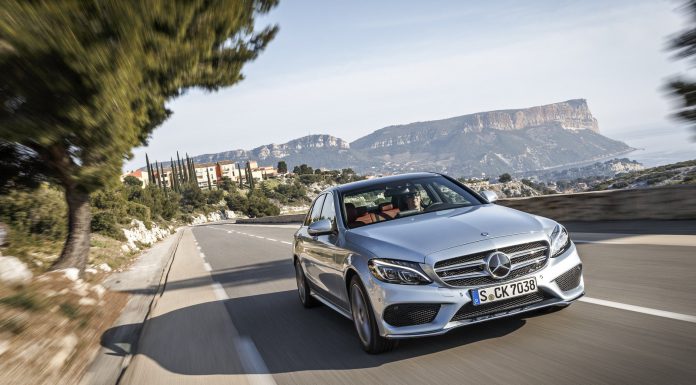 According to new reports, order books for the upcoming Mercedes-Benz C350e Plug-In Hybrid will open in January next year.
Alongside the German marque set to start accepting orders next month, sources indicate that production of the C-Class plug-in hybrid will also begin in the first quarter of the year. As for the name C350e Plug-In Hybrid, it will be part of the new Mercedes-Benz nomenclature with the lower-case 'e' indicating that the variant is indeed a plug-in hybrid. The new nomenclature will also see the letter 'c' used for compressed gas, 'd' for diesel, 'f' for fuel cell and 'h' for hybrid.
GTspirit Review of 2015 Mercedes-Benz C-Class

Beneath the skin, the Mercedes-Benz C350e Plug-In Hybrid will utilise a 2.0-litre, turbocharged four-cylinder engine delivering 208 hp on its own accord. This engine will then be mated to an electric motor delivering a further 80 hp. All electric mode is pinned to see the car cover about 32 km. Running in hybrid mode, the C350e Plug-In Hybrid will reportedly sip just 2.1-litres per 100 km.
[Via Mercedes-Benz Passion]