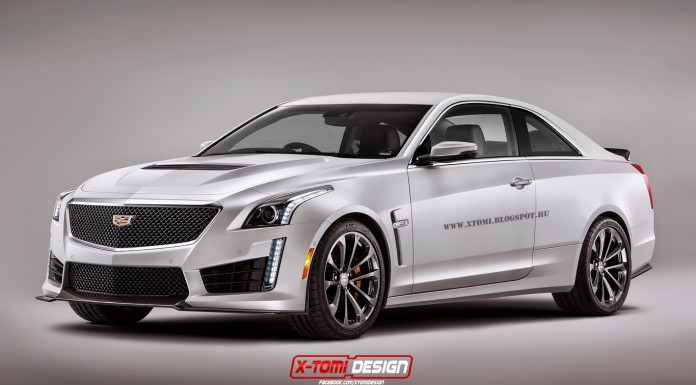 Just yesterday, the wraps were taken off the 2016 Cadillac CTS-V and as reports had indicated, it is a true performance machine. On the back of the car's reveal, X-Tomi Design has decided to render the third-generation CTS-V as a coupe as there's certainly a chance such a variant could be offered down the road.
After all, the outgoing CTS-V is available as a sedan, coupe and sportwagon. One reason which Cadillac might not want to create another CTS-V Coupe however, would be the fact that the recently revealed Cadillac ATS-V is available as a two-door and looks remarkably similar to the new CTS-V. Let us know your thoughts on a potential new CTS-V Coupe below!
As for the real deal, the 2016 Cadillac CTS-V uses the same 6.2-litre supercharged V8 engine as the latest-generation Chevrolet Corvette Z06. Whereas the Z05 delivers 650 hp, the new Cadillac CTS-V pumps out 640 hp and 630 lb-ft of torque. By comparison, the outgoing CTS-V pumps out 556 hp. This engine is then mated to a paddle-shift eight-speed automatic transmission driving the rear wheels. With the launch control function enabled, the 2016 Cadillac CTS-V rockets to 96 km/h (60 mph) in just 3.7 seconds as well as a top speed of 320 km/h (200 mph).
[Via X-Tomi Design]